Estimating the time it takes to get your real estate license in Texas is pretty straightforward. The quick calculation is the number of state-mandated classroom hours + whatever time you need to prepare for the Texas real estate license exam. On average, it can take between 2 to 6 months to complete the required classroom hours, apply for your license, and take the final licensing exams.
Understandably, your mileage may vary with the particular demands life throws at you. That said, let's look at the specifics that will face everyone wanting to take this journey.
How Long Is Real Estate School? - 180 Hours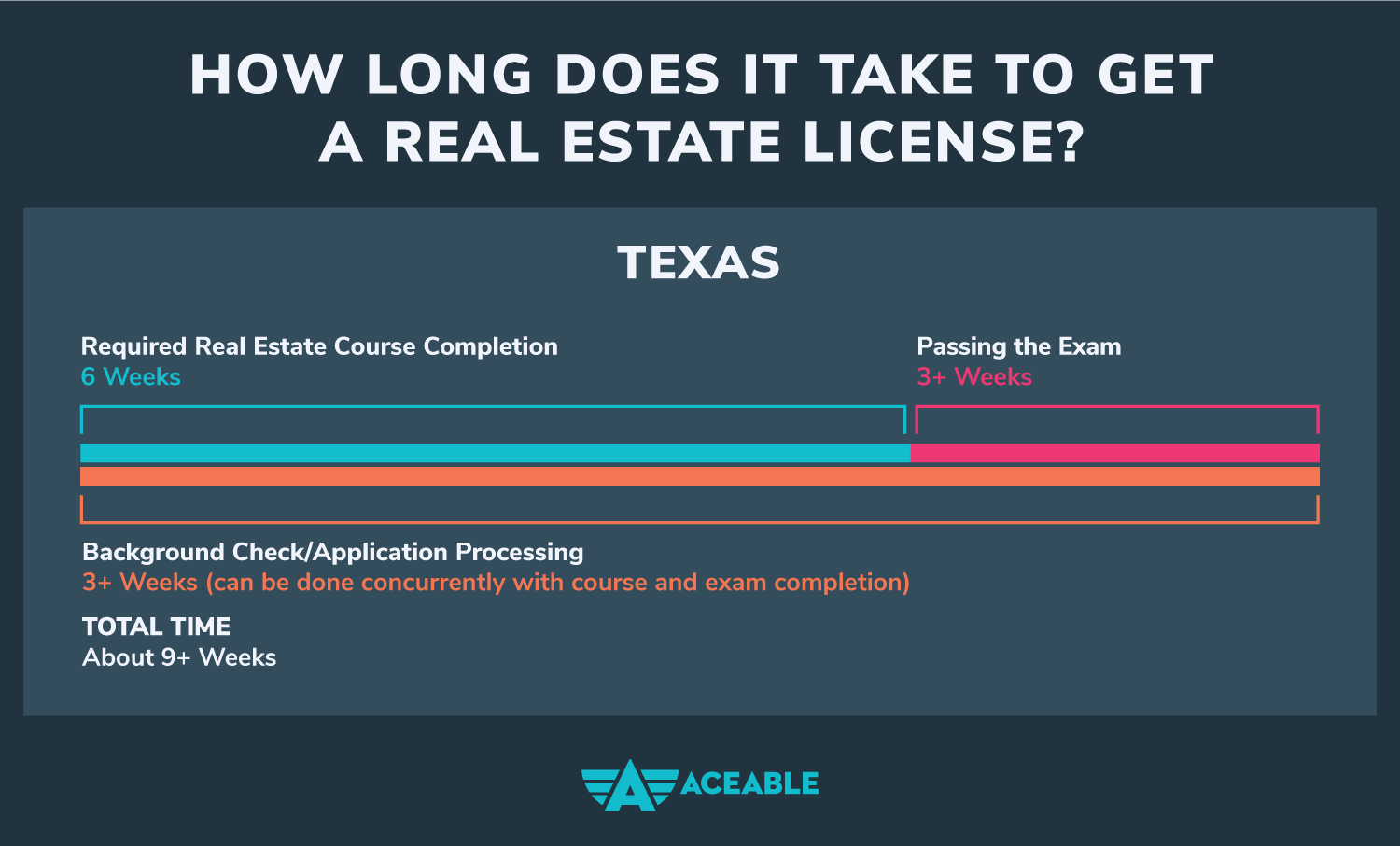 The Texas Real Estate Commission (TREC) mandates the successful completion of six 30-hour real estate courses before a student can take the state license test. (If a student has to repeat a course, that will add to their total of 180 classroom hours.)
How long it actually takes to complete the educational requirement all depends on the path you choose.
You can try to work your schedule around the classes offered at a local real estate school or community college, or you can take our TREC-approved online real estate courses, working at your own pace and according to your scheduling needs.
Let's consider two common scenarios — full-time and part-time students — by evaluating the circumstances and goals of our imaginary friends, Full-time Freddy and Part-time Patti.
Full-time Freddy
Freddy left his last job with a cushion of funds that would allow him to no work for up to half a year if necessary before transitioning into a new career. Nevertheless, Freddy is a go-getter who wants to blaze through the Texas real estate pre-licensing education requirements as quickly as possible. We appreciate his enthusiasm, but we want to set him up for success by avoiding burnout, mental fatigue, and unnecessary stress.
Our recommendation to Freddy is that he plan on no more than 6 hours a day in our courses. This would allow him to break that daily goal down into two uninterrupted three-hour sessions, around which mealtime and life's various distractions and errands can easily be accommodated.
If Freddy can do that, even with taking weekends off, he can get through one course a week and be eligible to take the state exam in one and a half months! And if Freddy gives himself an additional two weeks to prep for the state exam — highly recommended — he's still just a mere two months away from being Ready Freddy!
Part-time Patti
Patti's got plans. But she's also got a life, a job, and a kid. So her plans to get a real estate license will require a little juggling on her part. We have complete confidence in Patti, and we're here to help.
We think an ambitious but doable plan for Patti would be to set a goal of two hours a day in our courses. (Think quiet evening hours after the little one has been put down for the night.)
As was the case with Freddy, we don't suggest Patti plan to study on the weekends, but if life gets in the way during the workweek, she can certainly use those days to make up for lost time.
If Patti can manage this schedule, it will take her three weeks to get through a single course and just over four months to complete all her classes. Given the additional time it will take her to complete her coursework, we advise Patti to allow more time to prepare for the state exam — something like three-to-four weeks. Even playing this conservatively, Patti could conceivably have her state license inside of six months. That would be quite the achievement!
Shortening the Time It Takes to Get Your Texas Real Estate License
Now that you've seen the journey that full- and part-time students can take to complete their education and get their Texas real estate license, let's talk about a few short-cuts you'll want to know about.
Applying for a Texas Real Estate License
It may seem counterintuitive, but every hopeful salesperson should apply for their Texas real estate license before taking the licensing exam. Filing can take time (i.e. at least a few weeks), especially if you apply by mail rather than applying online.
You have 12 months to pass the state license exam after the application is filed, which should be ample time to study.
Studying for the Real Estate License Exam
Preparation is the key to passing the Texas real estate license exam on your first attempt. Every time you take the licensing exam, you must pay a $43 nonrefundable fee. That's just one of the career startup costs you'll want to prepare for. Having to retake the exam will also delay getting a real estate license.
Real estate exam study guides and practice tests like the ones included in the Aceable pre-license package are an excellent way to prepare. As far as the time it takes, you'll want to give yourself at least a few weeks to study. If it's been several months since you completed your real estate courses, you may want to give yourself more time to prep. While you wait on the application to process, it's the perfect time to start studying for the licensing exam.
Taking the Real Estate Exam
A final exam must be taken before you can get a Texas real estate license. Technically, the real estate licensing examination takes a maximum of four hours. But you have to plan ahead and schedule the real estate exam first.
Schedule your exam so that you have enough time to study, but there's still an opportunity to take the exam again if needed. Pearson VUE, the Texas real estate exam administrator, notes that it typically takes 5-7 days of processing before the exam can be scheduled again.
Finding a Broker
In order to get an active real estate license, you need to have a broker act as your sponsor. You can have a license without the backing of a real estate broker, but your license will be inactive.
Finding the right real estate broker can take time. It's something you'll want to start thinking about before you even begin taking the mandatory real estate courses. Square away enough time to interview several brokers over the course of a few weeks to make sure your goals align.
Once you've selected a broker, you'll need to submit a broker sponsorship form. There's no fee to submit the broker sponsorship form. As soon as TREC verifies the broker sponsorship and other requirements have been met, your official real estate license will be emailed, and you can start your career as a real estate professional.
When all is said and done, in as little as 2-6 months, you can go from being one of the students taking real estate courses to a licensed Texas real estate agent that's helping people buy and sell homes.
Start your journey to a career in real estate with Aceable today!