Cost #1: New York Real Estate Classes: $245+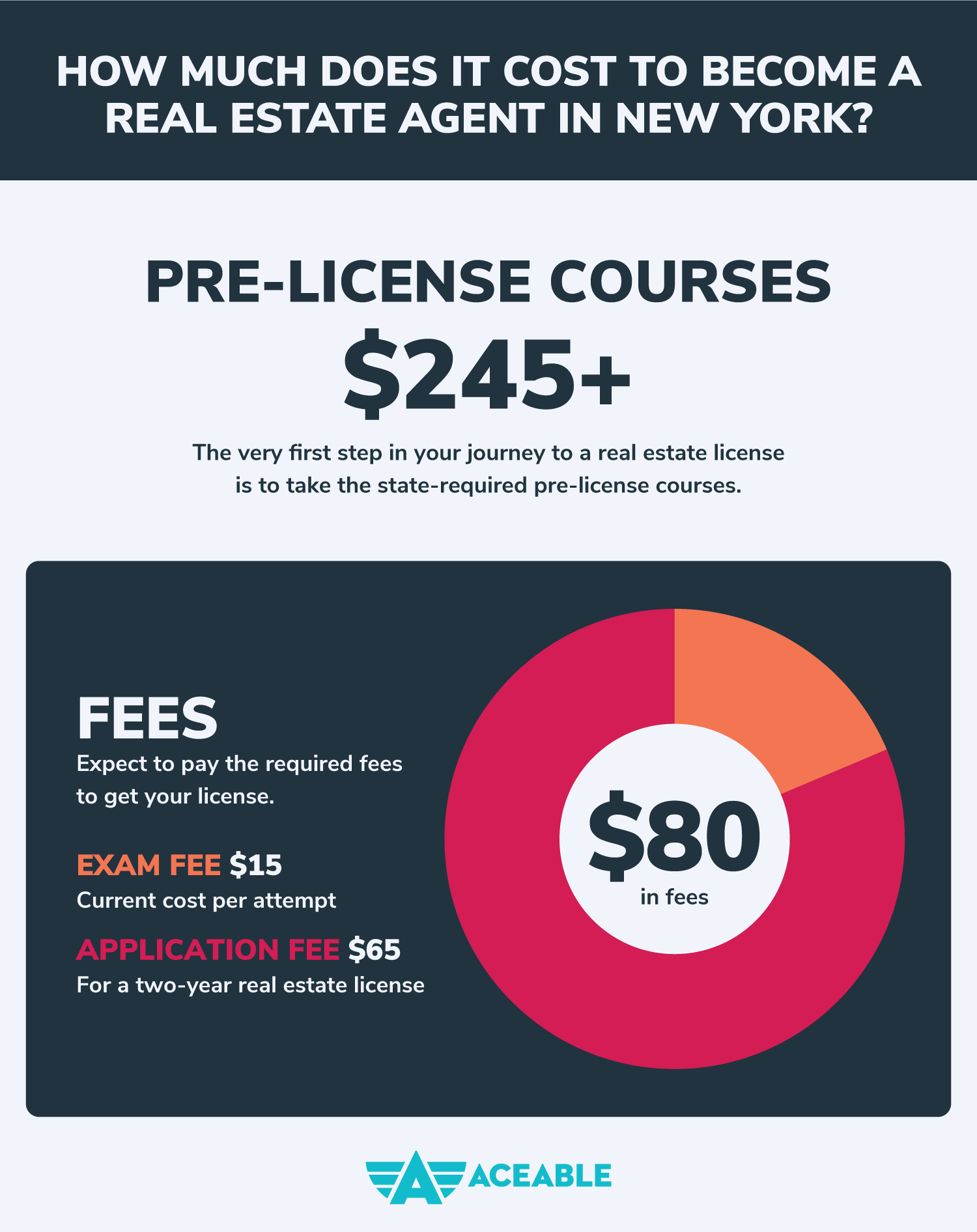 The first step to getting a New York real estate license is to complete your required pre-licensing education course. This is a 77-hour course that will teach you everything you need to know to pass the New York real estate exam (and get started on the right foot in your future career!).
Classes can be taken online or in person, and the cost varies by provider. Online versions of the pre-licensing course start in the neighborhood of $245, while in-person classes can often cost $1,000 or more. AceableAgent offers payment plans at checkout to help break up the upfront financial commitment to your pre-licensing course. Pick a monthly plan that best suits your needs and lifestyle while you're working towards your new career.
Whichever course you choose, make sure it's approved by the New York Department of State (otherwise it won't count and you won't be able to take the state exam).
Every pre-licensing course will include a school-administered final exam, but there should not be any additional cost associated with that test.
Once you finish your pre-licensing education, you'll be ready to take the state exam. There are some fees associated with this step in the process.
Cost #2: New York Real Estate Licensing Exam Fee: $15

Once you've completed the required education you'll be eligible to take the salesperson licensing exam. New York has one of the lowest real estate salesperson exam costs in the country — the written exam fee is just $15. If you have to retake the exam you'll have to pay the fee again.
Before you take your state exam, you'll want to make sure you're going in prepared. Many courses (like Aceable's) offer free practice tests and other test prep materials, but if the course you chose doesn't include those extras, you may find yourself paying for an additional prep course or practice test bundle before taking the exam.
Cost #3: Real Estate License Application Fee: $65
After you pass the state exam, you're ready to find a broker and fill out your license application. The non-refundable initial application fee for a salesperson is currently $65. You can fill the application out online and pay by credit card, cash, or personal check (note that there's a $20 returned check fee).
Total Cost of Getting a New York Real Estate License: $325+
When you add it all up, the initial investment to get a New York real estate license is around $325 (or more, depending on the cost of your New York real estate classes). Of course, that doesn't factor in the time you'll spend studying, but just consider that an investment in your future!
Becoming a Realtor: Extra Fees
We just talked about the cost of getting a New York real estate license, also known as a salesperson license. That license gives you the ability to practice real estate under the supervision of a licensed broker.
Many salespeople and brokers also choose to become Realtors. Realtor is not a separate license category. Instead, you pay to join a Realtor association (either nationally, for your area, or both).
Realtor associations provide their members with lots of important tools, often including:
Preprinted contracts and forms
Access to the MLS
Networking opportunities
Educational opportunities
Realtors also subscribe to a code of ethics that is more stringent than what state law requires.
Costs to Become a Realtor: $150+
Every Realtor organization charges annual dues, and so your cost will depend on which ones you choose to join. Often, your broker will help you figure out what makes sense for you.
The National Association of REALTORS® (NAR) charges $150 per year. Members will also pay a special assessment: $35 in 2022 and $45 in 2023.
The New York State Association of REALTORS® supervises 27 local Realtor associations. The cost to join is different in different areas, so check out your local Realtor association to see what you'd pay to join your local Realtor group.
Is a New York Real Estate License Worth the Cost?
Is it worth it to get your New York real estate license? That depends on you, your career goals, and how much you're willing to put into a real estate career. On average, New York real estate agents enjoy one of the highest annual salaries in the country: $81,020, according to the Bureau of Labor Statistics.
However, in any commission-based career path like real estate, salaries are going to vary widely based on how much you're selling. The more deals you do, the more money you'll take home.
There are a lot of reasons to choose real estate as a career besides the money. Some people want to go into real estate because they want the flexibility it offers: you can work as much or as little as your other commitments allow. Many parents find that real estate allows them to make some extra cash while still caring for their littles.