Can't wait to get started on your new career as a New York real estate agent? That's the spirit! That hustle will serve you well!
The quickest you can realistically get your New York salesperson license is six weeks, but the timeframe ultimately depends on you. Let's get into the details.
Complete 75 Hours of Pre-licensing Education - 2 Weeks +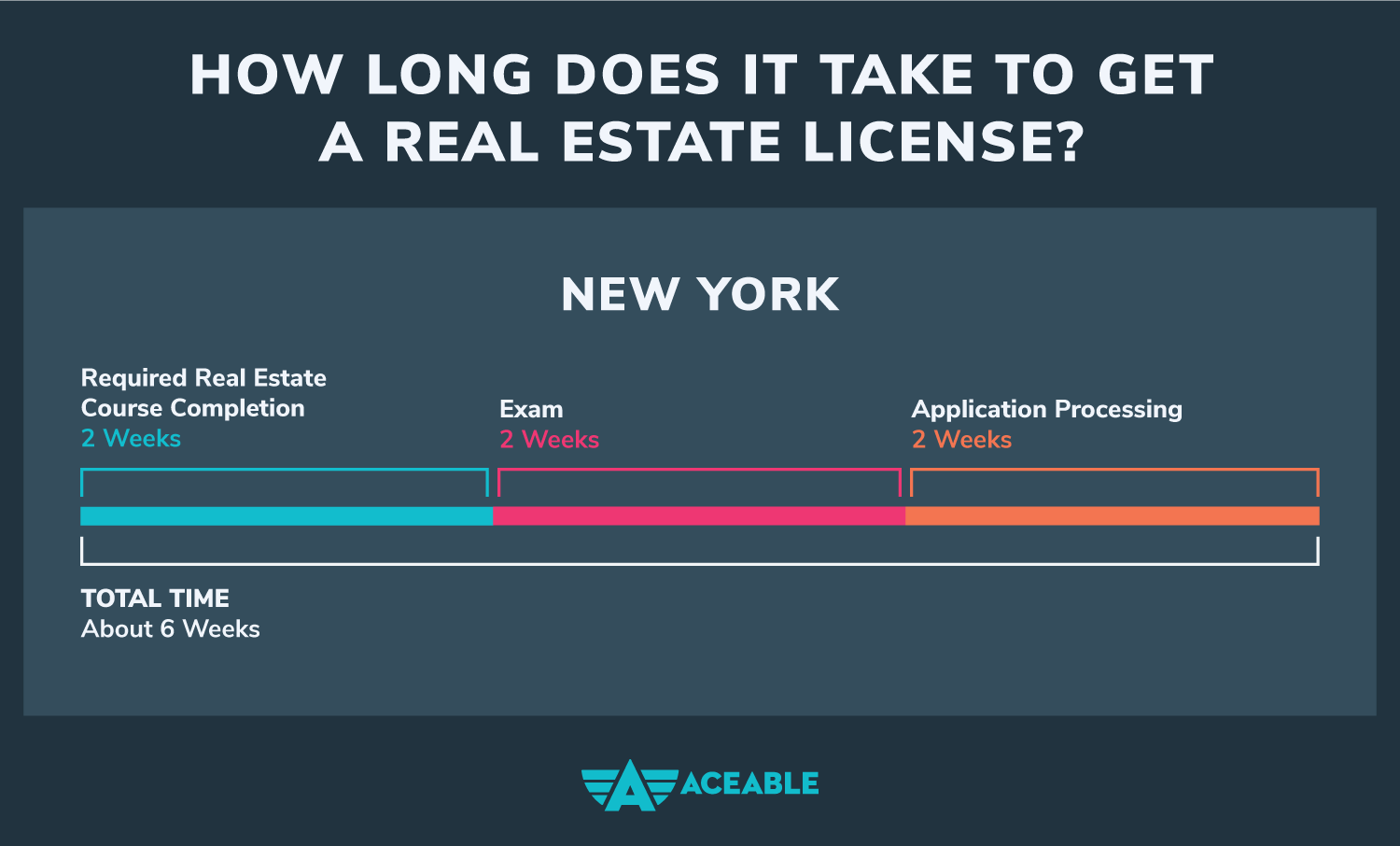 The first step in your journey to a real estate license is completing 75 hours of pre-licensing education. You can take this course online through an app or in person at a real estate school.
Full-Time Study - Approximately 2 Weeks
If you choose an in-person option, your speed through the course will be determined by your course provider's class schedule. Many offer a fast-track or boot camp-style option that can get you through the course quickly.
If you choose to do your pre-licensing education online, then you're the boss of your time! If you're willing to dedicate 40 hours a week to your real estate education, you can knock out your 75 hours in just two weeks. Make sure you leave time to study, though — you do need to be able to pass both the course final exam and the state exam.
Part-Time Study - Varies
Not everyone wants to or is able to dedicate two full weeks of their life to completing their real estate classes. If you work or do full-time childcare, you're going to be fitting your study time around your other responsibilities. But no worries! Faster isn't always better!
If you can spend five hours a week on studying, you can finish in 15 weeks.
If you can dedicate an hour a day to your classes, you can finish in just two-and-a-half months.
If you're able to do an hour a day during the week but five hours each weekend day, then you'll finish in seven-and-a-half weeks.
Ultimately, your speed through an online course is up to you!
Pass the State Exam - Approximately 2 Weeks
The next step to getting a license is passing the state exam. You can schedule your exam time online once you get your certificate of completion from your course provider. Typically, exam times schedule at least two weeks out.
Use that time to study! You don't want to waste time having to re-take the exam.
Pro Tip: You can get your account registered in the online system while you're still completing your coursework. That will speed things up when you're ready to schedule your exam.
Complete Your Application Online - Approximately 2 Weeks
Once you pass the state exam, you just need to complete your salesperson application through the online portal, register with your supervising broker, and pay the application fee.
As soon as your broker approves your application, it will be sent to the state for review. Once you're approved by the state, your license will be mailed to your broker's office and you'll be good to go!
How long this step takes will depend on how speedy your broker is to approve your application, so if you're raring to go, make sure they're on the lookout for the approval notification.
Between the mail and busy broker schedules, this process generally takes a minimum of two weeks. (Please note that government processes can be unpredictable, so there is a chance the approval will take longer. Not much you can do about that, though, unfortunately.)
Pro Tip: If you're trying to do a speed run on getting your license, make sure you start looking for a broker before you take the state exam. You can't get your license without a broker, so the sooner you get someone lined up, the less likely it is that this step will delay your licensure.
Total Time to Get Your License - 6 Weeks+
So you can see that if you're able to work full-time on your pre-licensing education and all the stars align, it's possible to get your New York real estate license in about six weeks.
For most people, the process tends to take a little longer. If you're taking a more leisurely pace, expect to spend three to six months getting your license. This gives you plenty of time to study for the final and shop around for the perfect supervising broker.
Ready to get started? Get your New York real estate course today!