Are you looking to get into real estate in Texas but wondering how much you'll earn as an agent? Figuring out your income can be less straightforward than you'd expect, as most real estate agents receive their compensation in the form of a commission. This means that instead of getting a check for the same amount each month, agents earn a percentage of the sales price of every house that they help their clients either buy or sell.
So, what's the amount of a typical real estate agent commission check? In Texas, the average commission rate is 5.49% of what the home sells for. However, legally there isn't a uniform commission rate, and the amount you end up taking home depends on several factors. Read on to learn all you need to know about real estate commissions in Texas.
What Is the Commission for Real Estate Agents in Texas?
The commission you'll earn as a real estate agent in Texas can vary. Traditionally, it will be a cut of a percentage that is split four ways. I know, that sounds like a lot of splitting, but there are usually four players who need to be compensated! Let's meet them.
Who Gets Paid in a Transaction?
Real estate agents share their compensation with their sponsoring broker. They'll negotiate how much of the commission they'll share during the hiring process. So, there's one split right there between the agent and their broker.
Typically, another brokerage is involved in a transaction too! Let's say, for example, that one brokerage represents the seller (that'd be the listing brokerage) and another represents the buyer (the buyer's brokerage). So, you've potentially got two different brokerages, and each brokerage has one sponsoring broker and their agent working in the transaction.
Now that you know the folks involved let's look at this process step by step.
How Traditional Commission Splits Work
Traditional commission splits break down as follows:
First, the commission amount for the transaction is negotiated between the seller of the property and the listing agent (listing agent is a fancy way of saying the agent working with the seller). Once they agree on an amount, it will be included in the listing agreement – that's the contract between the seller and the listing agent where they agree on the terms for how the agent will help them sell the house.
Next, the listing agent offers a percentage to a broker who will find a buyer. We call this the cooperating broker.
Then, when the house sells the buyer's real estate agent will get a percentage of the commission.
Remember, both the listing agent and the buyer's agent share their commissions with their sponsoring brokers. As a result, the commission for the sale often goes four ways. Another crucial factor to keep in mind is that all of these splits are negotiable.
Commission Split Example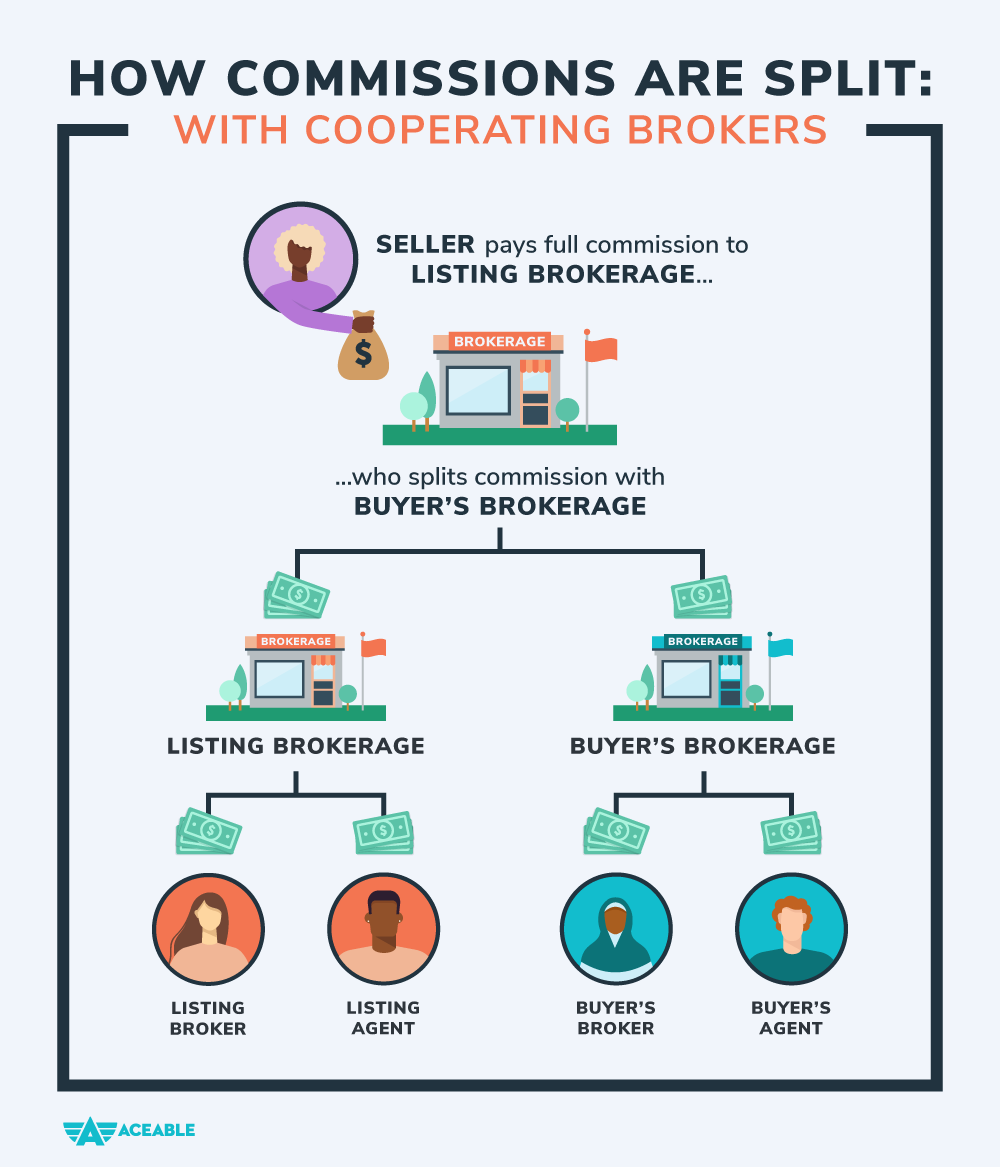 Let's look at an example. Say a home is listed for $300,000, and the seller and listing agent agree on a 6% commission. When the house sells, that whole 6% commission, or $18,000, will go towards paying commissions.
If the listing brokerage and the buying brokerage decide on a 50/50 split, each will get $9,000 to split with their agents. Let's say the buying agent agreed on a 50/50 split with their sponsoring broker – they would each get $4,500. And, for the sake of simplicity, let's say the listing agent and their sponsoring broker also agreed on a 50/50 split. In the end, four parties would get $4,500 each.
Home sale price: $300,000
Commission (6%): $18,000
Listing broker's commission (1.5%): $4,500
Listing agent's commission (1.5%): $4,500
Buyer's broker's commission (1.5%): $4,500
Buyer's agent's commission (1.5%): $4,500
Note: There are no uniform commission rates in real estate. In fact, it's a violation of federal antitrust laws to try to impose them. However, according to List With Clever's most recent survey, the average commission for realtors in Texas is 5.49%
Does the Buyer or Seller Pay the Commission?
Things don't always play out the way we described in the example above! So many pieces of the commission equation depend on what's negotiated. Typically, the seller will pay the commission unless they have otherwise negotiated to split it with the buyer. However, the commission is often factored into the selling price of the home. So, it could be argued that the buyer actually pays some, if not all, of it.
Breaking Commission Tradition
Of course, there are always those who decide to break tradition! For example, RedFin offers to list properties for a 1.5% commission fee. They act as a listing brokerage and listing agent but charge the rate of just one of those parties. Being so, it usually ends up costing only half of what the traditional model costs.
However, the commission for the buyer's broker and the agent is typically the same. So if you bring a buyer to a RedFin property, as the real estate agent, you can still earn your normal commission. While this can save the buyer and/or seller on potential costs, some customers complain about poor service quality with RedFin.
Get Your Real Estate License in Texas
Real estate agents in Texas earn an average income of $104,000 per year, according to 2022 data from Indeed. However, those with over 10 years of experience average around $123,588 annually. Plus, you get other benefits like the ability to work from home, a flexible schedule, and getting professional development assistance from your broker. Ready to get selling? Start the process of getting your license online!