Whether it's because you're looking for extra cash as a side hustle, or because you just want a fresh, new career, there's a ton of benefits to getting your Pennsylvania real estate license. It may seem daunting at first with all the paperwork, the education, the exam...but not to worry! If your first question is wondering how you get into real estate, you've come to the right place. Let's break down everything you need to know to become a real estate agent in Pennsylvania.
How To Get a Real Estate License in Pennsylvania
To become a licensed Pennsylvania real estate agent, there's a few steps you'll need to take. They include:
Checking your qualifications
Taking the required Pennsylvania real estate pre-license courses
Applying online for the licensing exam
Getting fingerprints and a background check
Taking the Pennsylvania Real Estate Exam
Finding a real estate broker to be your sponsor
Applying for your Pennsylvania real estate license
Let's take a closer look at each of these steps and what they entail.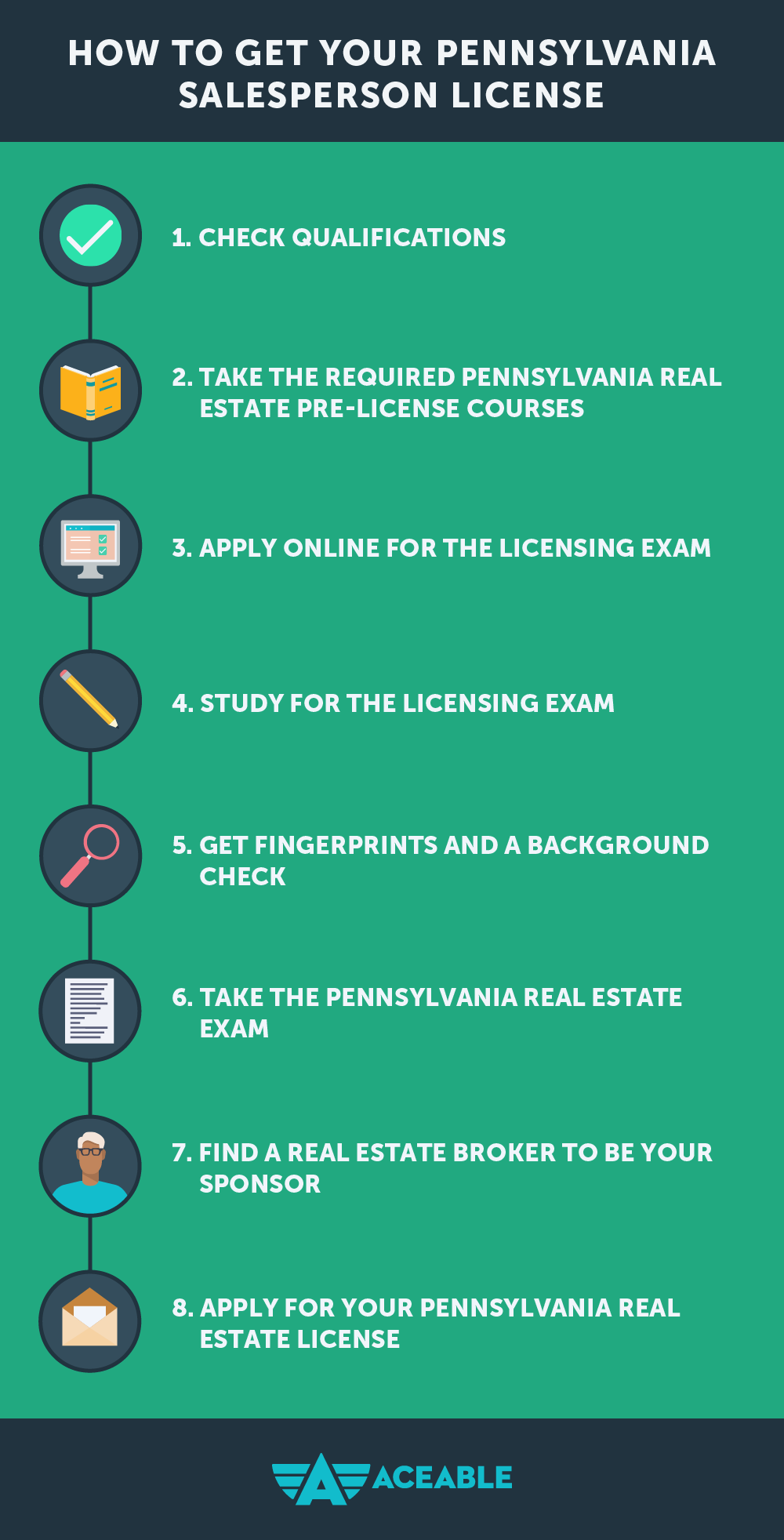 Step 1 -- Check qualifications
In order to qualify to be a real estate agent in Pennsylvania, you must meet the following requirements:
Be at least 18 years old
Be a high school graduate or equivalent
Be a US citizen or permanent resident alien
If you do not meet all of these requirements, unfortunately, you are ineligible to become a real estate agent in Pennsylvania. If all of these apply to you, then you can continue on your journey to becoming licensed!
Step 2 -- Take the required schooling for real estate agents and the Pennsylvania real estate pre-license courses
You don't need to have a college degree or any sort of specific education background (besides high school diploma or equivalent) to become a real estate agent in Pennsylvania.
But, the law does require you to take some real estate pre-license courses. You have to take and complete 2 courses that total 75 hours of coursework. The two courses include:
Real Estate Fundamentals (30 hours)
Real Estate Practice (45 hours)
You must complete and pass both of these courses to be able to apply to take your Pennsylvania real estate license exam.
Luckily, there are now convenient online options like Aceable that make your real estate license course a breeze. You can complete it on your own time and go at your own pace. There's no traveling to a classroom. Instead, you're learning from the comfort of your own home!
Some typical topics covered in the pre-license courses include:
The real estate laws of Pennsylvania
Real estate appraisal
Real estate finance
Human resources
Business law
Business economics
Financial management
These topics will all be on your final licensing exam, so make sure to pay attention to your material!
Step 3 -- Apply Online for the Licensing Exam
The exam is administered by PSI, which is a private testing company. To apply and register for the exam, you need to provide PSI with a certificate of completion from your pre-licensure courses.
You will make an appointment to take the exam, which can be scheduled as soon as a week in advance.
Step 4 -- Study for the Licensing Exam
While you are waiting for your application to go through and your exam date to come, it's time to hit the books!
While your pre-licensing coursework will have covered most of the material you will need to know for the exam, it is highly recommended that you refresh your memory and study your coursework so you can pass the exam.
One of the best things you can do to productively study is to take practice tests. Practice tests are scientifically proven to be the most effective way to help you pass an exam.
Step 5 -- Get Fingerprints and a Background Check
Before your license can be issued, the Real Estate Commission requires you to complete a background check by the Pennsylvania State Police. You can go to the PATCH website to get a Pennsylvania background check online or from the Pennsylvania State Police Central Repository.
There will be a fee for the background check, and the results only stay up-to-date for three months.
If you do have a criminal record, in Pennsylvania or anywhere else, you should be aware that the Real Estate Commission may not grant you a license even after you have paid the fees and passed the exam. The commission licenses people on a case-by-case basis and takes many different factors into consideration.
Step 6 -- Take the Pennsylvania Real Estate Exam
Unlike your real estate courses, you do have to show up in person for the exam. The State exam must be taken at a PSI Testing Center.
There are testing centers in:
Allentown
Bristol
Cranberry Township
Erie
Greensburg
Harrisburg
King of Prussia
Philadelphia (Bala Cynwyd)
Philadelphia
Pittsburgh
Clarks Summit
The exam consists of a National portion and a State portion. You must answer at least 60 out of 80 questions on the National portion and 23 out of 30 questions correctly in order to pass.
Step 7 -- Find a Real Estate Broker to be Your Sponsor
In order to practice real estate in Pennsylvania, you need the sponsorship of a licensed real estate broker.
Although a broker isn't your technically your boss, they will have an impact on your career and income.
Take time to research your options and interview each broker until you find the right fit. Once you found a broker you want to work with you'll need to submit a salesperson broker sponsorship form.
Step 8 -- Apply for Your Pennsylvania Real Estate License!
The Pennsylvania Licensing System (PALS) is an online portal that will walk you through the process of applying for your real estate license. You will need to create an account, submit all the necessary documentation, and wait to be approved.
You will have to submit your Salesperson License Application by mail, with the help of your sponsoring broker. Once your application is received and approved, your license will be mailed to your sponsoring broker.
Real Estate Agent vs. Real Estate Broker
While both career paths are very similar, there are a few main differences between real estate agents and real estate brokers.
A real estate agent is a licensed professional who can help people buy, sell, or rent all sorts of housing and real estate.
Once someone passes their real estate exam, they officially become a real estate agent. They can then work at a brokerage where they will work with home buyers, sellers, and renters.
A real estate broker is someone who has practiced as a real estate agent for a number of years, met all the specific qualifications, and then has passed a broker's license exam.
One of the main differences is that real estate agents need to have a broker to sponsor them when applying for their license. That means real estate agents cannot work completely independently but instead need to be employed by a licensed broker to represent clients.
Brokers also have knowledge about real estate legal issues and how the law applies to operate a brokerage, real estate investments, construction, and property management.
There is also a difference in pay. Real estate agents don't receive the commission on a sale directly. Commission fees are sent to the broker. The broker is then tasked with handling the funds and making sure the agent gets their share of the commission.
Benefits of Becoming a Real Estate Agent
A career in real estate is desirable on many levels. As a real estate agent, you have the potential to:
Earn unlimited income
Work for yourself
Set your own schedule
Choose from a variety of real estate types to specialize in
Help shape the future of your community
Unlike many other career fields, real estate offers multiple areas of practice that people can choose to work in. As a real estate agent, you could specialize in:
Residential Brokerage
Commercial Brokerage
Industrial and Office Brokerage
Farm and Land Brokerage
Real Estate Appraising
Property Management
Land Development
Urban Planning
Real Estate Research
Real Estate Counseling
Does any of this sound good to you? Visit our page to get you started on becoming a Pennsylvania real estate agent today!