Considering a real estate career in Pennsylvania?
If so, one of the first things you'll want to know is what your earning potential might be, which you've likely heard will be commission-based. While there's no magic number that applies to all situations, there are some industry averages that can give you a ballpark idea.
Read on to learn more about commission potential, plus the steps you can take to get started.
How Much Commission Do Pennsylvania Real Estate Agents Make?
How much you can make as a real estate agent will depend on the commission rates used (negotiable with each client) and the commission split structure you work under in your particular firm. These figures will vary, depending on factors like your level of experience and the types of properties you selll.
A recent survey of Pennsylvania real estate agents found that the average commission rate in the state is 5.53%. With the average home price sitting, according to Zillow, at $265,862, the average total real estate commission comes to about $14,700.
Keep in mind that you don't get that full amount as it's usually split up amongst multiple parties and brokerages.
How Do Real Estate Commission Splits Work in Pennsylvania?
When Pennsylvania homeowners want to sell their homes, they typically sit down with a listing agent and agree on a sales price and a commission rate. These amounts, including how the commission will be split between cooperating brokers (if any), will be documented in the listing agreement, and the final numbers will be confirmed in the purchase agreement.
Note: While the commission split between cooperating brokerages IS listed in the purchase agreement, the split between a firm's broker and their sponsored agent working the transaction would not be. That will be documented in the real estate agent's employment agreement with their broker.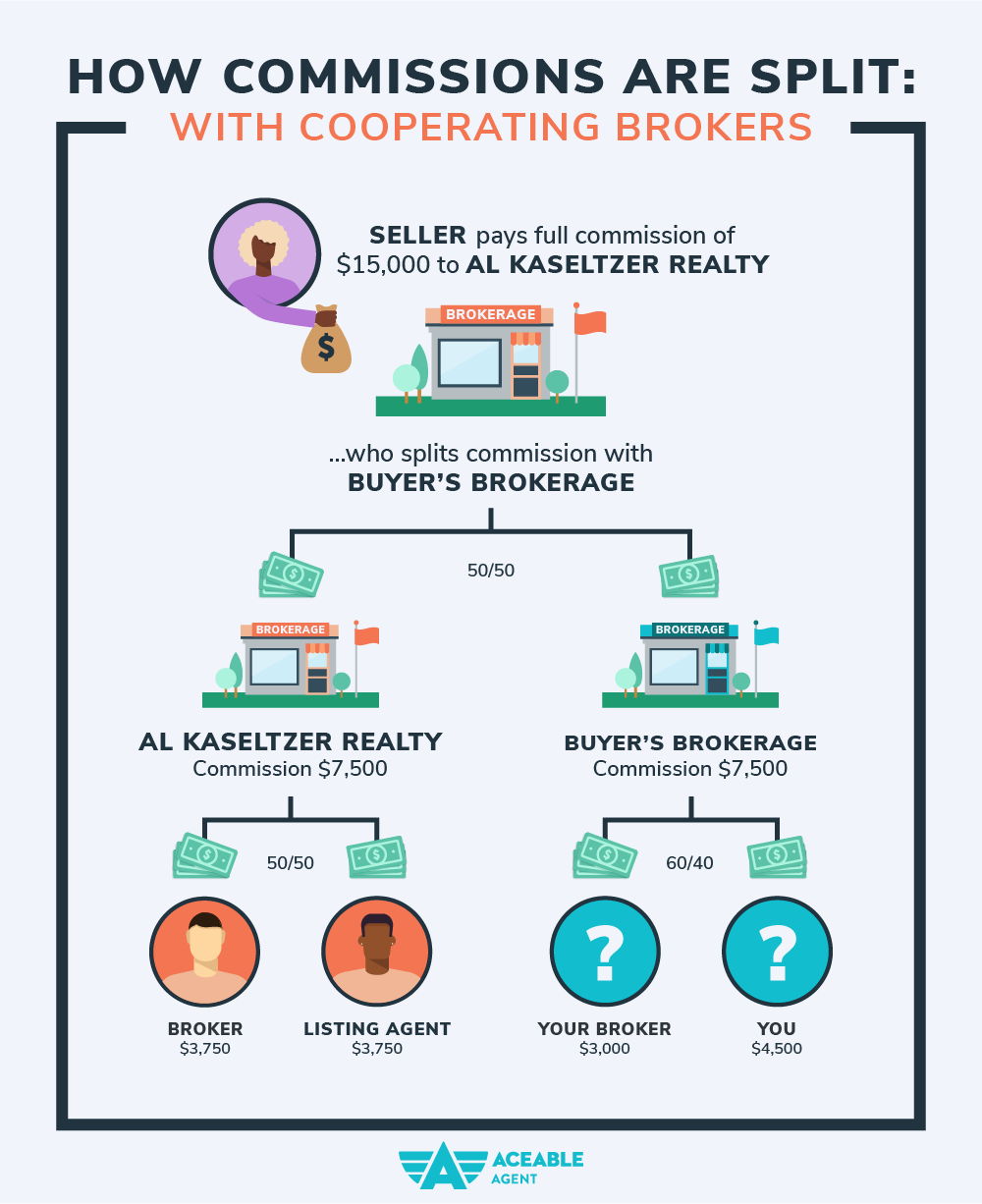 Real Estate Commission Split Example
Let's imagine that you are a buyer's agent representing a buyer in the purchase of a home in Pennsylvania for $300,000. The purchase contract stipulates that a 5% commission ($15,000) will be split evenly between the listing brokerage (Al Kaseltzer Realty) and the buyer's brokerage (your broker's firm).
Under this arrangement, the broker for Al Kaseltzer Realty and your broker would each get $7,500.
If the listing agent working for Al Kaseltzer Realty had agreed to a 50/50 commission split with their broker, they and their broker would each get half of $7,500, which would be $3,750.
If you, as the buyer's agent, had negotiated a 60/40 commission split agreement with your broker, your 60% would come to $4,500, while your broker's 40% would be $3,000.
This, of course, is an example of the traditional commission model. You may encounter some variations in how compensation is handled. So, be sure to read the fine print when choosing a sponsoring broker and before going into a new sale.
Get your Real Estate License in Pennsylvania
Now is a great time to get your real estate license in Pennsylvania. According to Indeed, agents are earning an average of $77,797 per year. And it doesn't take long to get started.
After confirming your eligibility, you can take the 75 hours of required education online from a state-approved provider like Aceable Agent. Once that's completed, the course final exam is proctored online so you can take it from home.
Ready to get started? Enroll today!