Virginia Real Estate License Costs: The Breakdown
Let's start crunching the numbers!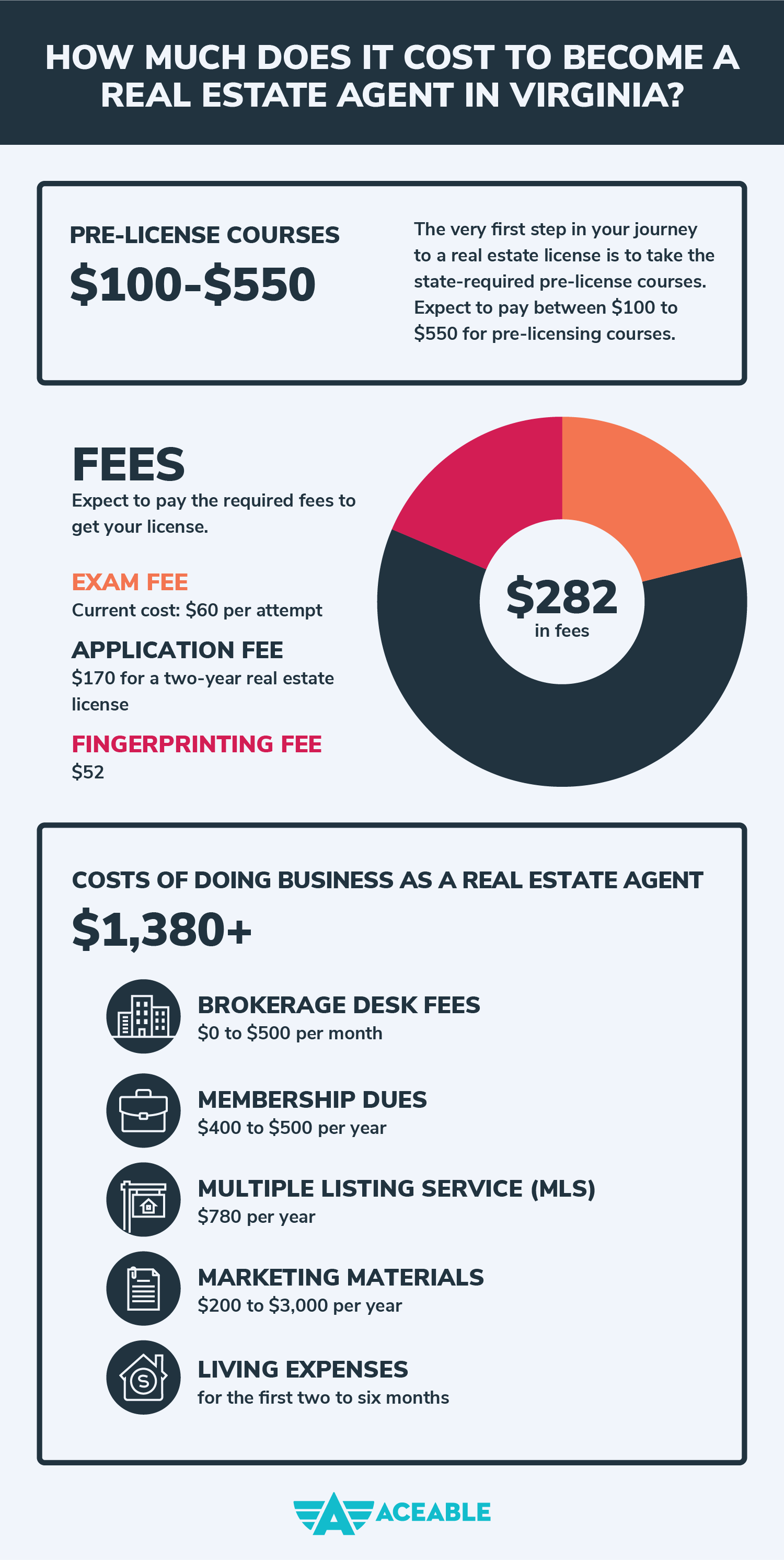 Cost #1: Pre-License Real Estate School Courses: Approximately $100 to $550
The first step in your journey to a get a real estate license in Virginia is to take the state-required 60-hour pre-license course.
You can enroll in the courses at any real estate school approved by the Virginia Department of Professional and Occupational Regulation (DPOR). Real estate schools vary in terms of curriculum, student support, and cost, so spend a little time comparing schools to find the best option for you.
As you look at real estate schools, pay special attention to:
State exam pass rates. How well do the students from each school do on the state real estate exam? Access to the course materials. Do you have to attend courses on campus? Can you access the coursework from your cell or tablet?
Student support. Will there be real estate professionals available to answer your questions?
Price. How much is your real estate school? Will your student experience be worth the expense? Cost varies by provider. Aceable's pre-license course, for example, costs $179, but courses from other real estate schools can be as much as $550. While price is a factor for most people, don't just go with the least expensive school. You want to make sure your school has a good track record of students successfully passing the test on the first try. See cost #2!
Cost #2: Exam Fee: $60 per attempt
Once your coursework is complete, you can apply to take your real estate exam and get your real estate license. The current exam fee for the sales agent license is $60 per attempt. It's a difficult test, and many people need two or even three attempts to pass it. This is why those exam pass rates are so important when you're choosing your real estate school. You want to give yourself the best possible chances of passing on your first try. Passing on the first try will save you time and money.
Cost #3: Application Fee: $170
The initial sales agent application fee for a real estate license is currently $170. You'll have to have this license to practice as a real estate agent.
Cost #4: Fingerprinting Fee: $52
In addition to the application fee, you'll pay a fingerprinting fee of $52. Anyone applying for a real estate license must be fingerprinted to check for any criminal history.
Total Virginia Real Estate License Cost: Approximately $382 to $832
Adding all these costs together, you should expect to pay in the neighborhood of $382 to $832 to get your real estate license in Virginia, with the only variables in cost being which real estate school you choose and how many times you take the exam.
Additional Costs to Become a Real Estate Agent
Next, let's take a look at some of the costs associated with being an agent.
Cost #1: Brokerage Desk Fees: Varies, anywhere from $0 to $500 per month
New agents must work under a broker, and some brokerages charge monthly fees to agents in exchange for office space, mentoring programs, and training.
Cost #2: Membership Dues: Varies, $400 to $500 per year
You'll want to join professional associations like the National Association of REALTORS® (NAR) and your city's local real estate board. These organizations offer tools and resources that can help you succeed as an agent. You don't have to belong to NAR or VAR, but if you do, the costs for both together will equal about $400 to $500 per year, plus initial application fees of about $100 to $250.
Cost #3: Multiple Listing Service (MLS): About $65 per month, or $780 per year
An MLS subscription is critical to your success as an agent. A subscription fee may be part of your local board of REALTORS® membership, or you may pay it separately. Prices vary, but a subscription to the local MLS is typically about $65 per month.
Cost #4: Marketing Materials: Varies, anywhere from $200 to $3,000 per year
You can start marketing for free on social media. You will need to budget some money for your print needs like business cards, property flyers, signs, and mailers to advertise you and your properties. You'll also likely need a website and may want to spring for paid advertising in local newspapers and magazines.
Cost #5: Continuing education (CE): Varies
After your first year as a salesperson, you'll need to take 30 hours of CE. After that, you have to take 16 hours of CE per two-year renewal period. Brokers have to take 24 hours of CE per two-year renewal period. CE costs will vary widely.
Cost #6: Living Expenses: Varies
Real estate is different from many other career paths. Real estate agents are typically not employees; they're independent contractors. This means you'll probably work on commission instead of receiving a predetermined salary. You'll probably have to pay for your own insurance and fund your own retirement.
It can take time to close your first deal. You'll need to find your first clients and see that deal through to close before you collect a paycheck. This whole process can take two to six months. That means two to six months without an income. According to the Bureau of Economic Analysis, the average cost of living in Virginia is $3,563 per month per person, so consider what you'll need to budget for as you're starting out.
The Total Cost to Become a Real Estate Agent: $1,710+
Adding all these costs together, you should expect to pay at least $1,710 your first year as a real estate agent in Virginia.