Well, hello, I know why you're here! You're thinking about changing careers, and real estate has caught your eye. After all, it's a career you can get into relatively quickly since you can complete the steps needed to become a real estate agent in months and at a reasonable cost. Plus, there are perks to working in real estate, like flexible working hours and the opportunity to earn a good salary.
According to Indeed, the average salary for a real estate agent in South Carolina is a little over $100k, which is pretty similar to the national average. On the other hand, the National Association of REALTORS® found the median gross income of a Realtor was $54,330 in 2021.
That's quite a difference! To understand why these numbers vary so widely, let's talk about how real estate agents get paid.
How Are Real Estate Agents Paid in South Carolina?
Typically, real estate agents don't get a standard salary or hourly rate. Instead, for each transaction they work they earn a commission. The commission is a percentage of the sale price of the home for which they either find a buyer or help sell. And, as you might've guessed, the amount of commission that an agent makes varies.
First, commission is always negotiable, so the amount that a real estate agent gets is a result of what the seller and the brokerage agree upon. And second, the commission in a South Carolina real estate sale is typically split several ways — meaning you won't get it all for yourself.
When a home is sold, commission checks are cut to each brokerage at closing: the one that represents the buyer and the one that represents the seller (they usually split the profits 50/50). Then the brokerages each pay a cut to their agents based on pre-arranged fee splits
Do Realtors Make More Than Agents?
A Realtor is a real estate professional who joins a local board of Realtors, such as the National Association of REALTORS® (aka NAR). So, getting a real estate license does not make someone a Realtor (also written as REALTOR®). That person would simply be called a real estate agent.
Given what we know about commissions (they're always negotiable!), being a Realtor does not automatically mean that someone earns a higher commission. However, it comes with many benefits, like networking opportunities and professional training that could lead to someone earning more money.
Does Experience Level Lead to Higher Pay?
With all this information about commissions in mind, one thing that will impact your pay is experience! Agents just entering the field might receive a lower commission split (for example, a first-year agent often receives about 50 percent of the commission paid to the broker).
As you get more experience under your belt, you'll likely be able to negotiate a higher percentage for yourself. In fact, a study by McKissock Learning found that those working in real estate can double their income after getting just one year of experience!
Location Matters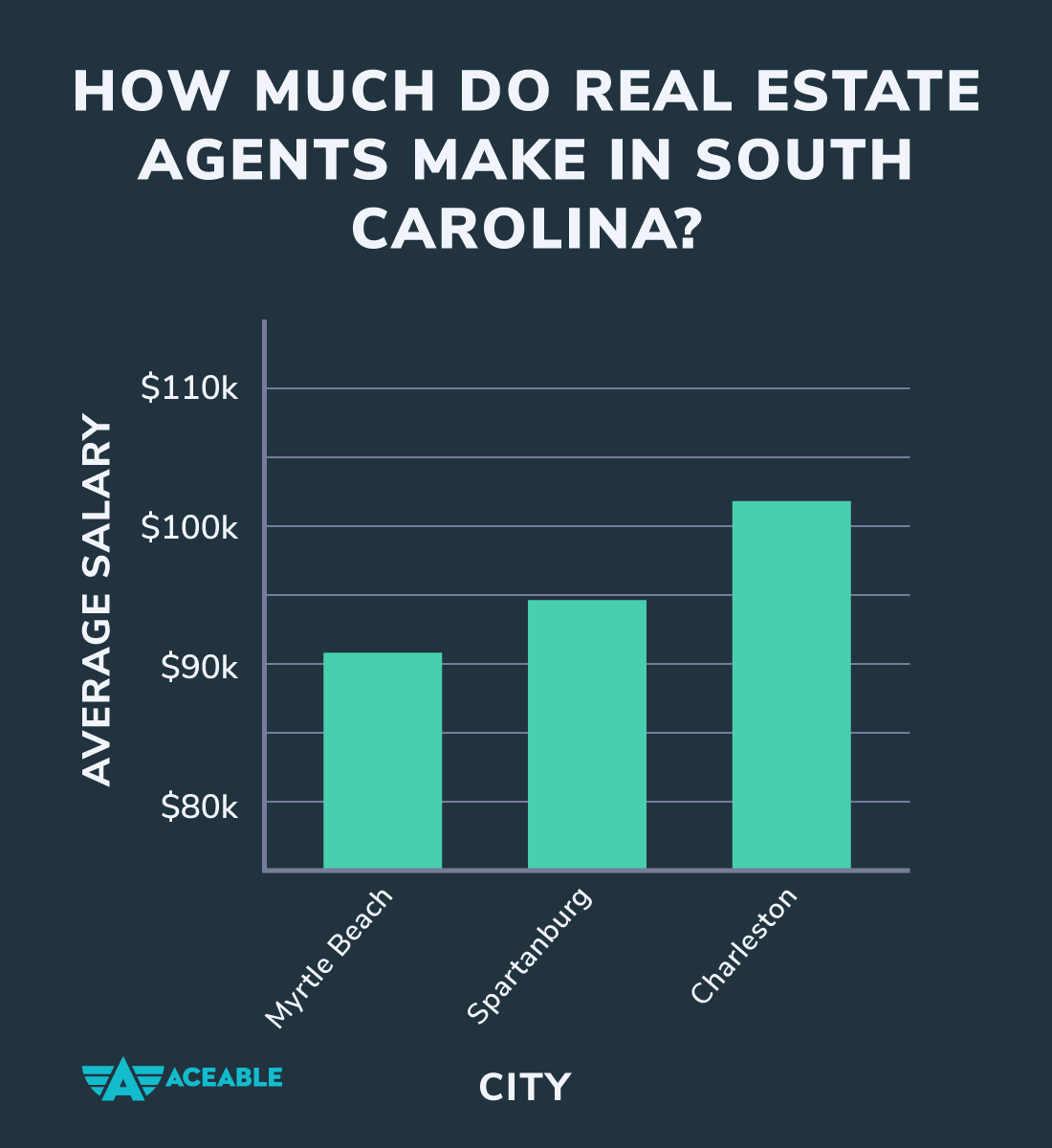 Another factor in how much you'll make as a real estate agent is your location. Since your commission is a percentage of a property's sales price, the housing market you're working in will impact your income. Let's compare salaries in some of the fastest-growing cities in South Carolina.
How Much Do Real Estate Agents Make in Myrtle Beach?
According to U.S. News, Myrtle Beach, SC, is the number one fastest-growing city in the United States! With this said, you can expect plenty of work as a real estate agent here. According to Indeed, real estate agents in this city make an average of about $90,874 a year.
How Much Do Real Estate Agents Make in Spartanburg?
Though Spartanburg, SC, attracts many young adults with its many higher education institutions, including the University of South Carolina Upstate, it's also a growing city! You can expect to help families find homes here and join real estate agents who earn about $94,959 each year.
How Much Do Real Estate Agents Make in Charleston?
Finally, there's historic Charleston. As the largest city in the state of South Carolina, Charleston offers competition and challenges for real estate professionals. However, there are rewards for those who take the challenge, as real estate agents can expect to make about $102,336 a year here.
So there you have it! If you're still interested in South Carolina real estate as a career path, your first step is getting your license. We'd love to help you start that journey with our South Carolina pre-licensing course.