Getting a South Carolina real estate license is among the most affordable ways to launch a flexible career with strong income potential. You won't need to pay for an expensive college degree, and you won't have the high expenses that come with many other start-up businesses.
So, how much does it cost to get a real estate license? You'll just need to cover the cost of a couple of pre-license courses and some administrative fees to get your South Carolina real estate license. Then you'll have some optional marketing fees to help launch your business and some living expenses while you work toward your first commission check.
Here's a breakdown of how much it will cost to get a South Carolina real estate license.
Cost #1: Pre-License Courses - $500–$700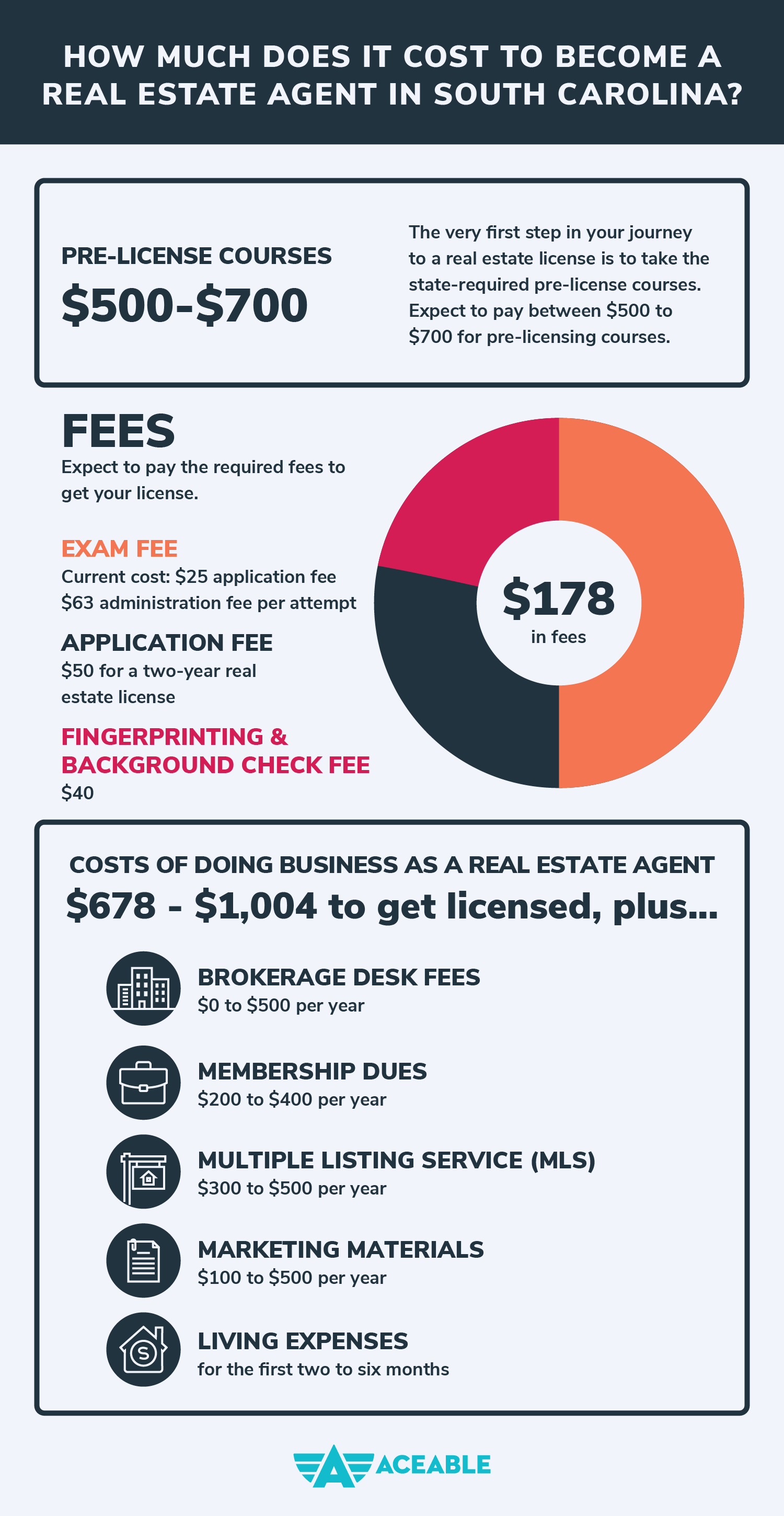 Getting your South Carolina real estate license does not require a college degree. But you do have a few things to learn before you can handle real estate transactions. The South Carolina Labor Licensing Regulation (LLR) requires that all real estate salespeople complete two courses:
A 60-hour Principles and Practices Course (commonly referred to as the Unit I course). You must pass this course before you can apply to take your South Carolina real estate exam.
A 30-hour Advanced Real Estate Principles Course (commonly called the Unit II course). You can wait until after you pass your real estate exam to take this course, but you must pass this course before you can apply for your real estate license.
You must take your pre-license courses from a state-approved provider. There are several important factors to consider when choosing your provider:
Will the curriculum prepare you to pass your real estate exam? If you can't pass your exam and get your real estate license, what good is the course?
How do you access the course? Do you have to be on-campus or online at specific times? Can you easily access the materials from all your devices (including tablets and phones), or do you need to be on a computer?
Is there help available when you have questions? Can you speak with instructors and/or industry experts directly if you have a question about the material?
How much does it cost? Does the student experience justify the cost?
Generally speaking, you should expect to pay around $500–$700 for the required courses. Online courses are usually more cost-effective than on-campus courses. And you can take advantage of deals that combine both required courses into one bundle to keep your costs on the low end.
Cost #2: Exam Fees – $88+
South Carolina real estate license applicants pay several (comparatively) small fees to take their real estate exam and get their license.
Applicants must pay a $25 exam application fee to qualify for the exam, and an exam administration fee of $63 per attempt. The licensing exam is a difficult test, and many people need two or even three attempts to pass it. This is why those exam pass rates are so important when you're choosing your real estate school. You want to give yourself the best possible chances of passing on your first try. Passing on the first try will save you time and money.
Cost #3: Application Fee – $50
Once you have passed the licensing exam, you will need to submit a $50 application fee with your license application.
Cost #4: Fingerprint and Background Check Fee – $40
As part of the application process, you will need to pay for fingerprinting and a background check, which costs around $40 (as of July 1, 2020, instructions and exact costs are provided after your initial license application is received).
The Total Cost of Your South Carolina Real Estate License - $678–$1,004
Between your pre-license courses and your administrative fees, it will likely cost somewhere between $678 and $1,004 in order to become licensed, with the biggest variable in cost being which real estate school you choose.
Pre-License Real Estate School Courses: $500 to $700
Exam Fee: $88+ ($25 fee + $63 per attempt)
Application Fee: $50
Fingerprinting Fee and Background Check: $40
Are There Any Other Costs?
Getting your South Carolina real estate license is one thing. Building your real estate business is another. You should plan for some upfront business expenses and general living expenses while you wait for your first commission check.
Upfront Business Expenses
Real estate agents are typically independent contractors, not employees. This means you'll be responsible for paying many of your own start-up costs. You might find a broker who will split some of these costs with you, but you should be prepared to invest some money in your real estate business for things like:
Membership in the National Association of REALTORS®, which is optional, but generally considered to be a good career move: $200–$400 (the cost of membership varies by region)
Brokerage Desk Fees: New agents must work under a broker, and some brokerages charge monthly fees to agents in exchange for office space, mentoring programs, and training. This cost varies, but is typically anywhere from $0 to $500 per year.
An MLS subscription is critical to your success as an agent. A subscription fee may be part of your local board of REALTORS® membership, or you may pay it separately. Prices vary, but a subscription to the local MLS is typically $300-$500 per year.
Marketing materials like business cards, flyers, brochures, and newsletters: $100–$500 (depending on how much you're willing and able to invest upfront)
To keep upfront marketing costs low, take advantage of free marketing methods like:
Calling everyone you know to update them on the real estate market and see if they know anyone looking to buy or sell.
Using social media to promote your new business.
Hosting open houses for other agents.
Living Expenses While You Wait For Your First Commission Check
Many new agents forget to budget for their living expenses. As a new agent, you are paid a percentage of the sales price of each home you sell. And you only get paid when the deal closes. So even if you sell a home your first week, you won't get paid until the end of the 30–60 day escrow period.
Try to save money while you're working toward your license so you'll have some savings to help cover those expenses as you get started. And consider adding multiple income streams to your real estate business so you can pay the bills even between commission checks
Is a South Carolina Real Estate License Worth the Cost?
Adding up these costs can be a bit intimidating, but consider what you get in exchange for this investment in your future.
According to the Bureau of Labor Statistics, South Carolina real estate agents earned a mean wage of $48,340 in 2021 (equivalent to $23.24 per hour). Agents in the 90th percentile are earning around $100,000 annually. And real estate incomes have likely increased since the latest 2021 data because of increases in property values. These rates aren't bad when you consider that South Carolina is among the more affordable states to live in. And since getting a South Carolina real estate license doesn't require an expensive college education, the pay-off is even better!
So if you're looking for a flexible career with solid income potential, a South Carolina real estate license is well worth the cost. Enroll in your pre-license real estate courses today, and get ready to start your new career!