How You Complete Your Pre-License Course - Online Vs. In-Person
Real estate education can be provided by local colleges, professional schools, and state-approved third parties, like Aceable.
A decision you will have to make is if you want to take the course online or in-person. The option you choose will influence the time it takes to meet the education requirements. In-person classes at a real estate school, local commission or college will be taken over the course of a semester. Our online courses allow you to go at your own pace and can be completed in weeks rather than months.
The State You Live In Makes A Difference
Each state creates their own guidelines for issuing real estate licenses. That means there are 50 different processes with 50 different timeframes for getting a salesperson or real estate broker license.
Required Real Estate Pre-License Courses
The biggest difference between states is what real estate education requirements must be met. State real estate guidelines typically require that a person take a specific pre-licensing course or series of courses before taking a real estate exam. Real estate courses are assigned credit hours like college courses. You'll have to pass a real estate course successfully in order to receive the credit hours.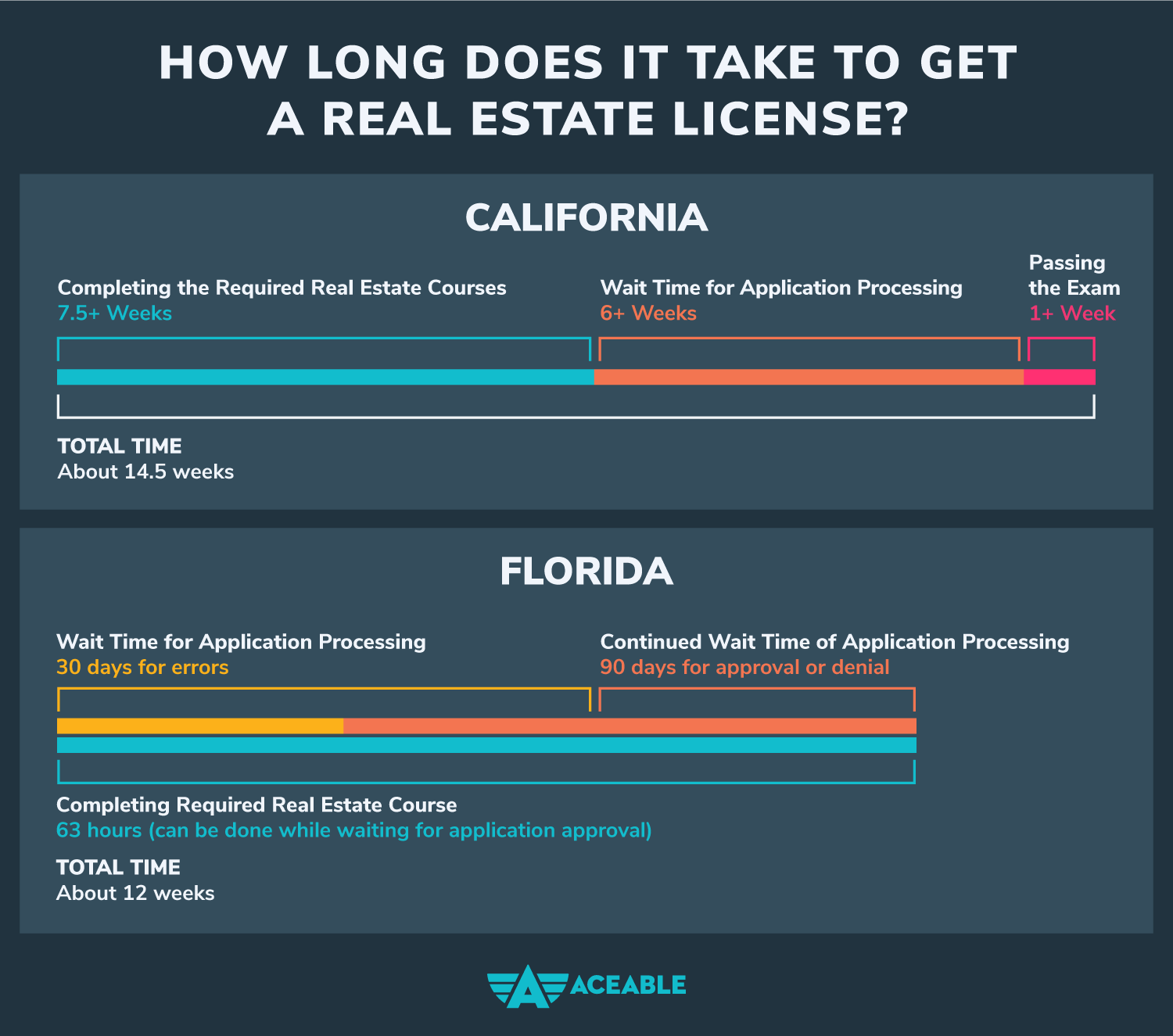 The California and Florida real estate industries are good examples of how the educational requirement can affect the time it takes to get a license. Florida requires 63 training hours before taking an agent licensing exam. In California, you need more than double that - 135 hours of college-level courses. Right off the bat, it takes twice as long in California compared to Florida.
Let's take a closer look at a potential timeline for getting your real estate license in both states.
Real Estate License Timing Comparison
The 135 hours of coursework in California is spread out amongst three separate courses. The California Department of Real Estate mandates that students spend a minimum of 2 ½ weeks on each of the three required courses. That means the fastest you can complete the course would be around 7 ½ weeks.
As soon as you complete the required real estate courses, you'll get your Exam Application submitted. It typically takes the DRE at least 6-8 weeks to process applications.
When you submit your application you can choose to have the DRE schedule your exam for the earliest date available or you can self-schedule after getting approval. Generally speaking, your exam will be a week or so after the application is approved.
You'll find out whether you passed as soon as you're done. Anything that's a 70% or higher is considered a passing score.
In all, you can get your California real estate license in about 14.5 weeks!
Florida, on the other hand, only requires 63 hours of real estate coursework through an approved provider. In Florida, you can send in your Exam Application to the Florida Department of Business and Professional Regulation BEFORE completing your coursework. The DBPR must notify an applicant if there are any errors in their application within 30 days, and must approve or deny the application within 90 days.
Assuming there's no errors in your application, this means you can finish your coursework in the three months it takes for them to approve your application.
After that you'll need to take your exam. In Florida, the real estate exam is administered by a company called Pearson VUE and can either be taken online, or in-person. Assuming you take it online, you can register, take the exam, and pass it all in one sitting.
That means it can take you as little as 12 weeks to get your license in Florida, and if the DBPR approves your application sooner, it could be even quicker than that!

What states have the longest and shortest pre-licensing requirements?
As far as the timeline goes, Texas requires the most hours of pre-licensing education, with 180 hours of required coursework. This can take 6+ weeks or more, depending if you're studying full-time or part-time.
Massachusetts and Michigan, however, have the smallest education requirement of only 40 hours needed to get your real estate license.