So you're curious about what it takes to become a real estate agent in Georgia – that's understandable! Real estate is a great business to be in, especially in Georgia: agents get paid well, the cost of living is low, and you don't need a college degree. Plus, it's flexible, fun, and a great side hustle, too.
Before you can start cashing those commission checks though, you'll need to get a Georgia salesperson license. Let's talk about how to get a Georgia real estate license.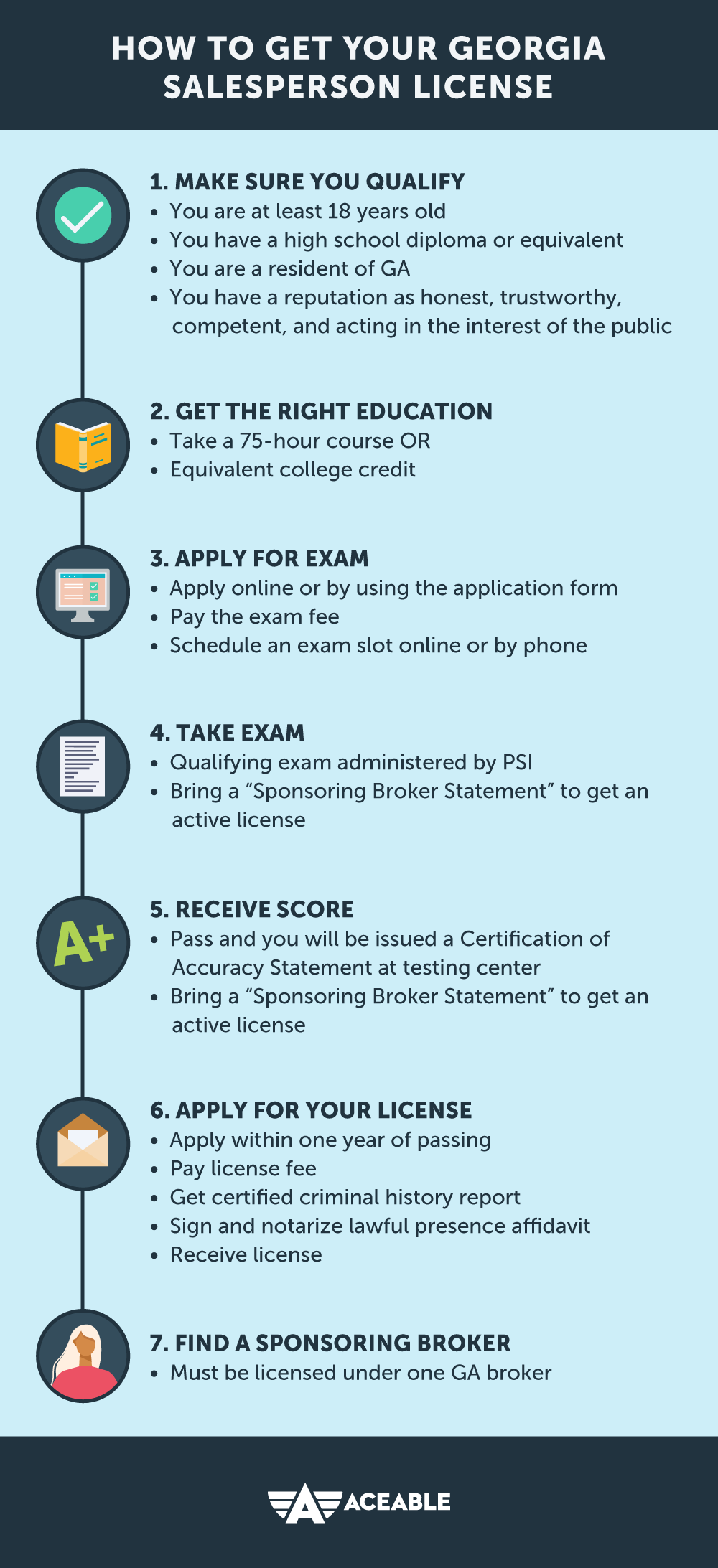 6 Steps to Getting a Real Estate License in Georgia
Step 1: Check the qualifications
Step 2: Fulfill your education requirement
Step 3: Apply to take the exam
Step 4: Pass the exam
Step 5: Find a sponsoring broker
Step 6: Apply for your license
Step 1: Check the Qualifications
Georgia has a few prerequisites for people wanting to become real estate agents. Before you get started, let's make sure you can check all of these boxes.
You must:
Be at least 18 years old (or will be by the time you get your license)
Have a high school diploma or the equivalent
Be a Georgia resident
Have a reputation for honesty, trustworthiness, competence, and acting in the interest of the public
When they talk about a good reputation, what the Georgia Real Estate Commission (aka GREC) is referring to is your criminal record. While you can still be granted a license with a conviction in your past, the process is a bit more complicated. You can read here for more detail on how it works.
Step 2: Fulfill Your Education Requirement
In addition to a high school diploma or equivalent, the Georgia Real Estate Commission requires that all applicants complete 75 hours of pre-licensing education. You can meet this requirement by choosing one of the following options:
Complete a pre-licensing education course at a school approved by the Georgia Real Estate Commission. This can be online or in person.
Complete a pre-licensing course approved by a real estate regulatory commission for another state or Canadian province. You'll have to provide a letter from that real estate agency proving that your course is approved in that state/province.
Complete at least ten quarter hours or six semester hours of real estate courses at an accredited college, university, or law school in the U.S. or Canada. In this case, you'll have to submit a transcript to the test provider.
Step 3: Apply to Take the Exam
When you complete your pre-licensing education, it's time to apply to take the exam. Before you can take the exam, you must: 1. Submit an application (either by mail, phone, or online) with proof that you completed your pre-licensing education. 2. Get notified of application approval from the testing officials. 3. Make a reservation to take the test and pay the $121 exam fee.
For more details about the application process, check out the candidate handbook.
A Note About Background Checks
In the application to take the exam, you will be required to disclose if you've ever been convicted of a crime, pled guilty or nolo contendere to a crime, or been disciplined by a state licensing agency. It is critical that you answer this truthfully.
If you have a criminal record, you'll fill out the Background Clearance Application. This gives GREC permission to do your background check before you take the exam (and pay the fee).
Anyone who doesn't have a criminal history to disclose will undergo a background check after passing the exam. If GREC uncovers an undisclosed incident, it will be much harder to get a license than if the applicant disclosed the incident at this step. The lesson? Disclose everything!
Step 4: Pass the Exam
The Georgia salesperson licensing exam is a computerized test with 152 multiple-choice questions that will cover state and national topics. You'll have four hours to complete the test.
At the end of the test, you'll receive a score report letting you know if you passed. If so, you'll be issued a Certificate of Accuracy Statement. Don't sign it yet! You need it for your application.
Step 5: Find a Sponsoring Broker
To practice real estate in Georgia, every agent with a salesperson license (that'll be you, my friend!) must work under a sponsoring broker. Your sponsoring broker is your boss, but they're also your mentor, your hands-on teacher, and legally responsible for everything you do.
If you find a sponsoring broker before you take the licensing test, you might be able to get your license the same day you take it! But it's also fine if you don't have a sponsoring broker when you apply. In that case, you'll be granted an inactive license that can be activated later when you find a broker.
Step 6: Apply for Your License
Alrighty, the final step! After passing your exam, you'll have one year to complete your application. If you take longer, you'll have to retake your exam.
You'll apply for your license in person at the testing facility. Here's what you'll need to bring:
A photo I.D.
An unsigned Certification of Accuracy (COA) Statement
Completed Sponsoring Broker Statement Form (if you don't have this, you'll receive an inactive license)
GCIC report or another acceptable criminal history report
Signed and notarized Lawful Presence Affidavit
Payment for the licensing fee: $170 if you apply within 90 days, $340 after
Agent or a Realtor?
You'll often hear "real estate agent," and "Realtor" used interchangeably, but they don't mean the same thing.
A real estate agent is someone with a state license to practice real estate sales. A Realtor is a licensed real estate agent who is also a member of the National Association of REALTORS® (NAR). So, all Realtors are real estate agents, but not all real estate agents are Realtors.
That said, the steps to becoming a Realtor start with becoming a licensed real estate agent, so at this point you might want to ask yourself if it's worth becoming one.
Taking the Extra Step to Become a Realtor
To become an official Georgia Realtor, you'll join your local chapter of the Association of Realtors. Simply complete the application to join and pay your new membership dues. By joining your local association, you'll automatically be a member of the Georgia REALTORS® and the National Association of REALTORS®.
There are several benefits to becoming a Realtor, including:
Increased networking opportunities
Ongoing professional training
Legislative advocacy at the local, state, and federal levels
The downside to being a Realtor is the annual expense. You can't expect all the benefits to come for free!
Whether you'd like to choose the path of an agent or a realtor, a good beginning step is to pick out the pre-licensing course you'll take, and we know you'll love learning with Aceable.