Do Realtors Make More Than Real Estate Agents?
Well, since you're entitled to jump through slightly bigger hoops by following a strict code of ethics, you would think that being a Realtor would automatically mean more money, right? Sadly, that's not exactly the case.
Being a Realtor doesn't grant you a higher commission split than if you were just a real estate agent, but that doesn't mean there aren't perks to joining! Being a Realtor gives you access to education and training resources, offers members information on local legislation and regulation that impact the real estate industry, and probably most importantly of all, makes you become part of a larger group of Realtors. This means more networking opportunities to make connections that can help you sell more houses!
So while joining your local board of REALTORS® might not automatically grant you a higher commission, your member benefits could definitely aid in a soaring real estate career.
How Are Real Estate Agents Paid in Georgia?
Real estate agents don't have a typical salary or hourly rate, but instead, work off commission. The commission you'll earn as a real estate agent in Georgia can vary. Agents just entering the field might receive a lower commission split (for example, a first-year agent often receives about 50% of the commission paid to the broker). They may also have to split the commission with the buyer's real estate agent.
Most real estate agents are paid through a listing agreement, which is signed by the seller and the listing agent. The listing broker then shares part of that commission with the brokerage that represents the buyer.
So How Much Does a Real Estate Agent Make in Georgia?
According to data gathered from Move.org, Georgia was ranked the 7th most moved to the state in 2021. It's safe to say that now is the time to dive into the real estate market and get your Georgia real estate license.
Let's break it down by city…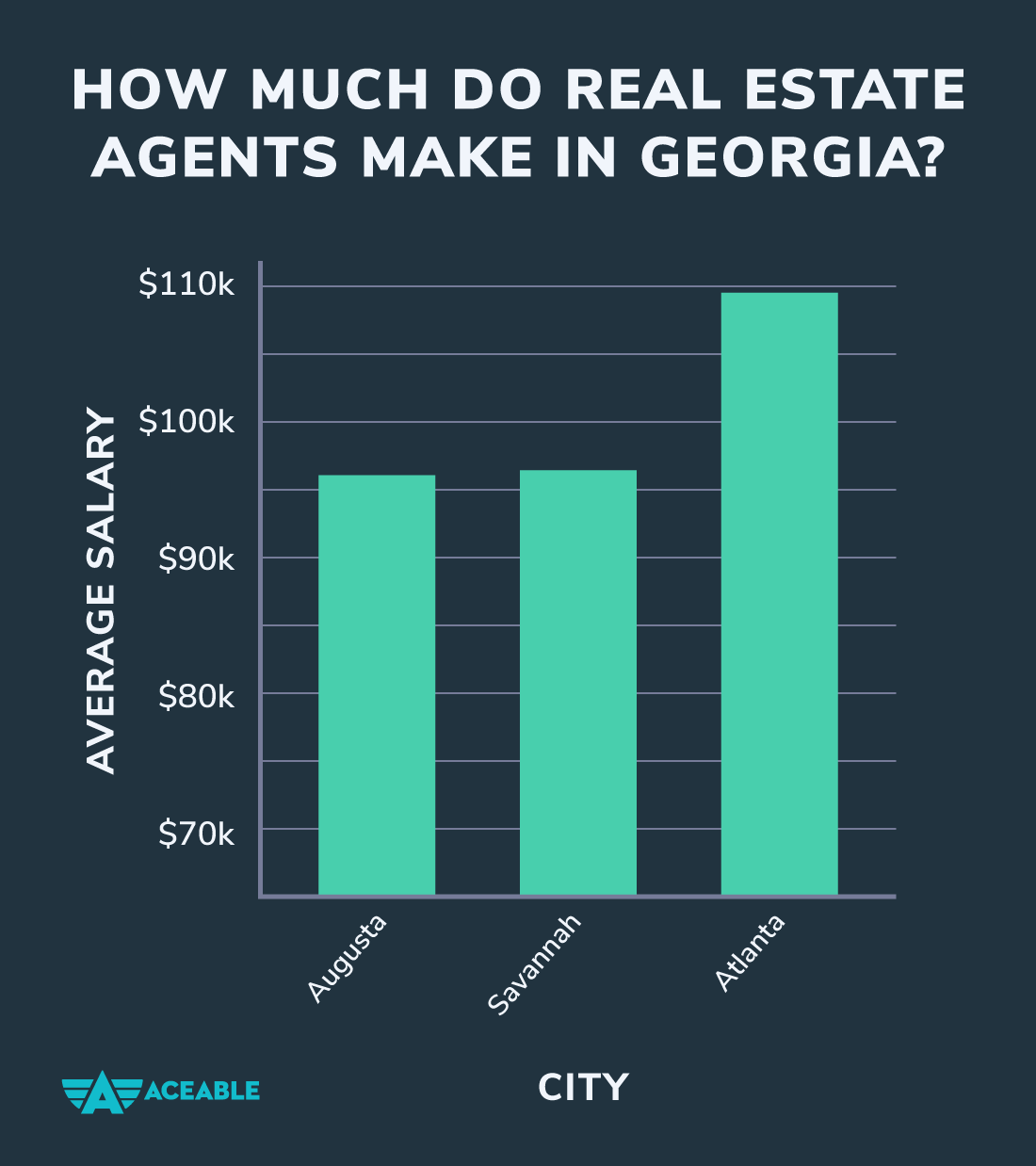 How much do real estate agents make in Atlanta?
If you're in Atlanta and considering getting your real estate license, you could potentially make an average of $109,610 per year, which is even higher than the national average. Being a real estate agent in Georgia's state capital has its perks. With a population of almost 500,000 people, it is currently the most populous city in the state, making it a booming real estate market area. According to Realtor.com, in April 2022, the median listing home price in Atlanta was $412K, trending up 5.9% year-over-year.
How much do real estate agents make in Augusta?
For those who are looking to get their real estate license in a slightly smaller city, Augusta might be the place for you. With a population of almost 200,000, Augusta is almost half the size of Atlanta, so if you'd like to maybe dip your toes in your real estate career, this may be a great place to start. In this quieter city, Augusta real estate agents make an average of $96,070 per year.
How much do real estate agents make in Savannah?
Boasting a population of 145,492 as of 2016, Savannah is a smaller Georgia city than the others on this list, but that doesn't mean it isn't a lucrative market for real estate. Savannah real estate agents make an average of $96,425. Known for its manicured parks, well-preserved architecture, and gorgeous coastal landscapes, the town is sure to see an influx of visitors each year who may want to call Savannah home in the near future.
While these are only estimates in these three particular cities in Georgia, remember that there is no limit to how much a real estate agent can make. Building a reputation in your area and becoming an expert in the field will render no limits to your annual income.
If you're interested in Georgia real estate as a career path, you have to start with getting your license. Start your journey with our Georgia pre-licensing course today!