Florida Real Estate Agent Commission Example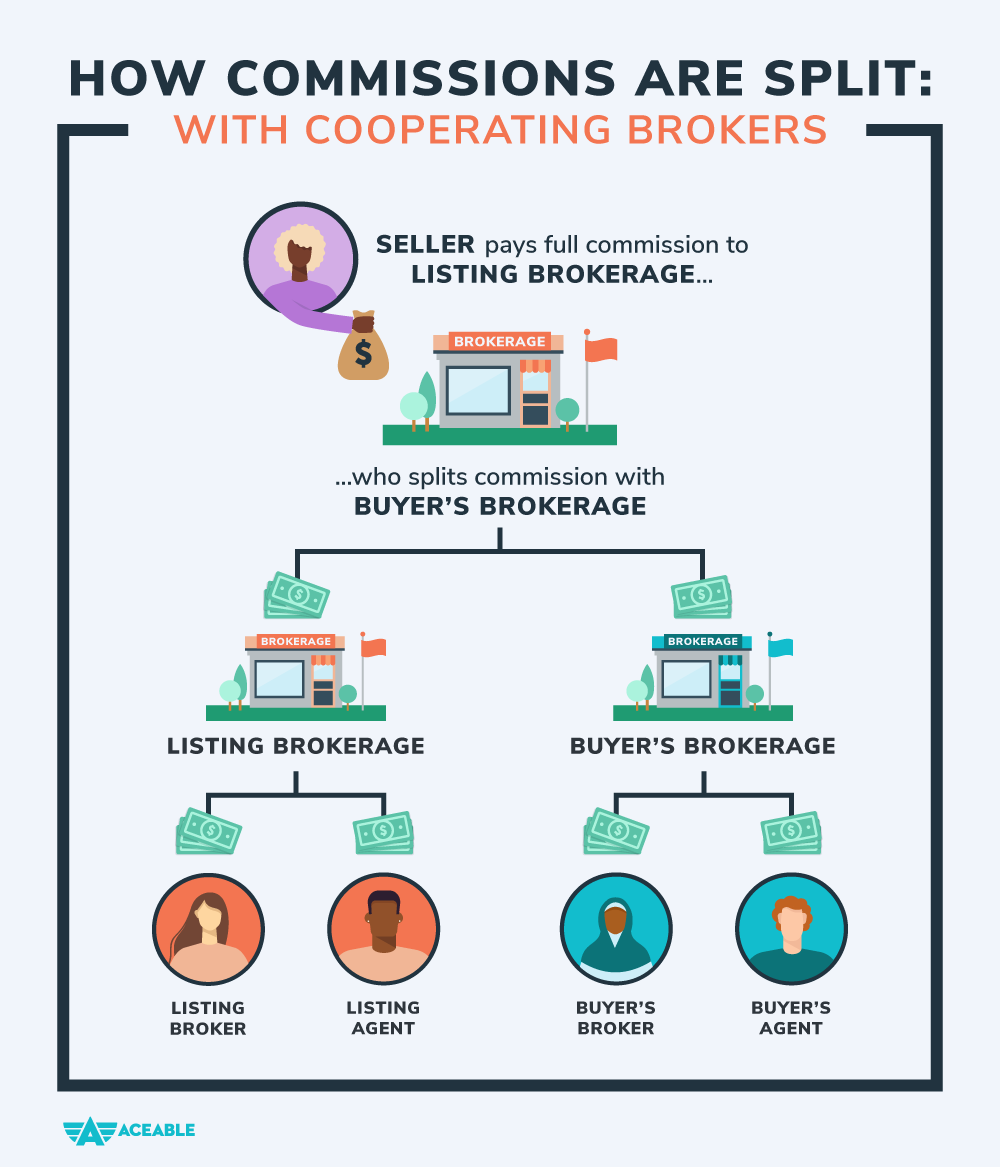 Let's look at an example to see how this works in practice.
The average home price in Florida is around $378,000 as of April 2022. Using the 5.4% average commission rate, the total payout on a $378,000 sale would be $20,412 – this is the amount that will go toward paying commissions. Now, let's assume you're the buyer's agent, and you have a 60/40 split with your broker. We'll also assume the listing agent has a 60/40 split with their broker.
First, the listing brokerage and buyer's brokerage split the commission 50/50. Both sides get $10,206. Then, the listing agent's broker and the listing agent split their share 60/40. And, you (as the buyer's agent) and your broker split your share 60/40.
The commission payouts would be as follows:
Listing agent's broker (40%): $4,082.40
Listing agent (60%): $6,123.60
Buying agent's broker (40%): $4,082.40
Buyer's agent (60%): $6,123.60
As the buyer's agent, you would receive $6,123.60 in commission from this deal.
How Discount Brokerages are Mixing Things Up
Discount brokerages (like Clever Real Estate, Redfin, or SimpleShowing) are offering to list homes for commission rates as low as 1%. This sounds like great news for sellers: they can list their homes for a fraction of the cost!
But there are several problems with discount brokerages:
Agents aren't willing to do much work for such low fees. So the listing agent might put the home in the MLS, but they're not going to invest their time, money, or effort in marketing the home.
Buyers' agents aren't incentivized to show the property to their buyers. Of course, the buyer's needs come first, but if you can find them an ideal home with a reasonable commission split for you, you're more likely to be excited about showing them that home compared to one where you'll get little-to-no commission.
Even if the discount brokerage successfully sells the home, it probably won't be for top dollar because none of the agents were excited about getting involved in that deal. Agents are more likely to work harder to get top dollar for a home with a reasonable commission.
Ultimately, you end up with underserved buyers and sellers. But because this is a fairly new idea, buyers and sellers need to be educated on why this doesn't work out as well for them in practice as it does in theory.