A Lot Depends on Where You Are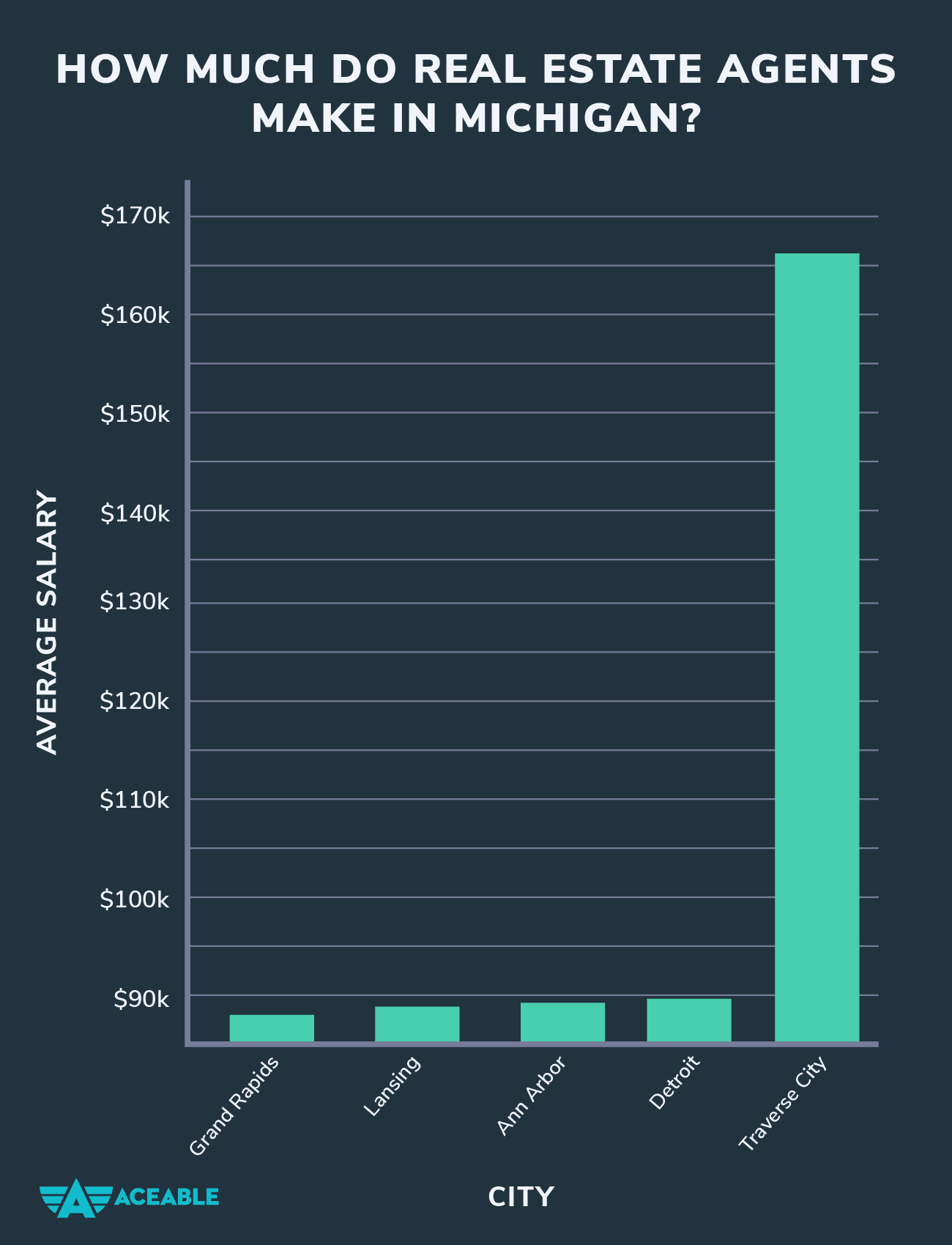 If you're wondering how much do real estate agents make per sale, the short answer is, it depends. Maybe you'll be working with more clients in the bustling city of Detroit, or maybe you'll be selling less, but more expensive homes, overlooking Lake Michigan. While the hustle and hard work (and of course, whether or not you work a full-time schedule) will greatly impact your earnings as a real estate agent, where you are is a huge factor too.
Since real estate agents are paid a percentage commission, the higher home prices are where you are working, the more you will get paid per sale.
Let's take a look at some of the average salaries in a few different cities in Michigan.
How much do real estate agents make in Lansing?
If you're in Lansing and considering getting your real estate license, you could potentially make an average of $88,563 per year. Some attractions in the state's capital city include Potter Park Zoo, the R.E. Olds Transportation Museum, and of course, the Michigan State Capitol building. Lansing is also home to Michigan State University, which sees thousands of new students every year that could be looking for a home for the next four years of their lives! While you may often work with clients looking for townhouses, or condos, a majority of the real estate in Lansing will be single-family homes
How much do real estate agents make in Detroit?
For those who are looking to get their real estate license in a big city, Detroit might be just what you're looking for. A total of 672,351 people live in Detroit, making it the most populous city in all of Michigan. It also just happens to be the biggest city in the state. In this bustling city, Detroit real estate agents make an average of $89,963 per year.
How much do real estate agents make in Ann Arbor?
Boasting a population of 121,093 as of 2020, Ann Arbor is a much smaller Michigan town than the others on this list. But that doesn't mean it isn't a lucrative market for real estate. Ann Arbor real estate agents make an average of $89,276. Ann Arbor is home to the Matthaei Botanical Gardens & Nichols Arboretum, Gallup Park, and the Kelsey Museum of Archaeology. The University of Michigan also happens to be located in Ann Arbor, so the town is sure to see an influx of visitors each year who may want to call Ann Arbor home in the near future.
How much do real estate agents make in Grand Rapids?
As one of the fastest growing cities in Michigan currently, it would be a smart move to get your real estate license in Grand Rapids. Real estate agents here make an average of $84,275 per year. With attractions such as the Frederik Meijer Gardens & Sculpture Park, the Grand Rapids Art Museum, and the John Ball Zoo, there's a lot to see and do in the Grand Rapids area, making it a great city for real estate agents to work.
How much do real estate agents make in Traverse City?
According to the most recent U.S. Census results, Traverse City, Michigan boasts a population of only 15,878. Traverse City is definitely one of the smaller cities in Michigan, which might make being a real estate agent slightly more challenging, but that doesn't mean it's impossible to make quite a bit of money as long as you work hard! In fact, despite being the smallest city on this list, Traverse City real estate agents make about $165, 773 per year. That's higher than any other city on this list, and even higher than both the state and national average!
While these are the averages, remember that there is no limit to how much a real estate agent can make. Building a reputation in your area and becoming an expert in the field will render no limits to your annual income.
If you're interested in Michigan real estate as a career path, you have to start with getting your license. Start your journey with our Michigan pre-licensing course today!