Whether you're fresh out of school or looking for a change, exploring career options can be overwhelming, and trying to get information about how to become a real estate agent can be particularly stressful. The good news is that you're in the right place! We will break down everything you need to know to get started.
Even though there's a lot to learn, it is worth it. Real estate is one of the few career paths that offer a flexible work schedule, job satisfaction, and unlimited income potential – all without requiring a college degree.
Let's walk through what it takes to launch your new career. First off, did you know that being a Realtor means something different from being a real estate agent? Allow me to explain!
What Is a Realtor®?
Before we get into the step-by-step details of becoming a Realtor, we need to define the term. You'll often hear "real estate agent" and "Realtor" used interchangeably, but they don't mean the same thing.
A real estate agent is someone with a state license to practice real estate sales. A Realtor is a licensed real estate agent who is also a member of the National Association of REALTORS® (NAR). So, all Realtors are real estate agents, but not all real estate agents are Realtors.
That said, the steps to becoming a Realtor start with becoming a licensed real estate agent. But, before you read any further let's figure out if you meet the basic qualifications.
Who Can Become a Florida Real Estate Agent?
To apply for a Florida real estate license, you must:
Be at least 18 years old
Have a high school diploma or the equivalent
Be honest, trustworthy, and of good moral character
Be competent and qualified to make real estate transactions
Have a social security number and be legally able to work in the U.S. – note that citizenship is not required
If you have a criminal record, you should also know that it won't necessarily disqualify you from getting your license, but you may have some additional steps in your process. To learn more, we have a handy article about getting licensed in Florida if you have a felony.
Another thing to consider before you get started is whether you have the time and money to invest toward this goal. If you're concerned about budgeting, please look at this article which will help you estimate the total costs of getting licensed so that you can plan accordingly.
How to Become a Florida Real Estate Agent
There are six steps to getting your Florida real estate license:
Complete your pre-licensing education and pass the final course assessment.
Submit your fingerprints for the background check.
Submit your application to the Department of Business and Professional Regulation.
When the application is approved, schedule your state exam.
Pass the state exam to get your license.
Find a supervising broker.
Read on for more information on each of these steps.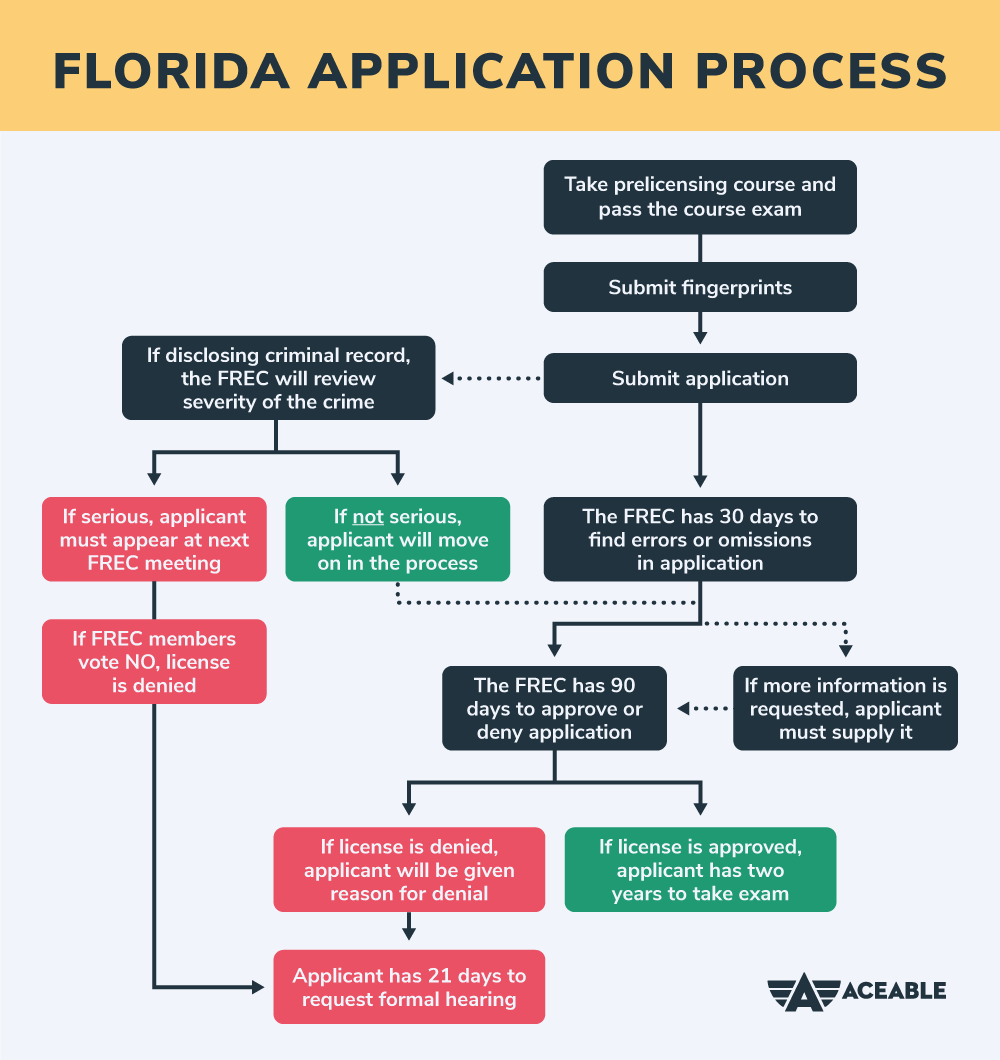 Step 1: Complete Pre-Licensing Education
You'll need to complete a 63-hour pre-license real estate course from a state-approved education provider. You can find a list of approved education providers on the Florida Department of Business & Professional Regulation's website.
There are a ton of options to choose from, and you'll want to consider whether you'd rather take the class online or in person. There are ups and downs to either choice, but if you take the course in a classroom, you cannot miss more than eight hours of class.
On the other hand, if you take the course online, you can make your own schedule. And, if you take the course with Aceable, you'll have the added flexibility of being able to access your course from any of your mobile devices.
Whichever course you choose, the final step will be to pass the course exam at the end. You'll have to get at least 70% of the test questions correct to pass.
Step 2: Submit your Fingerprints
At least five days before you submit your application (that'll be the next step!), you need to get your fingerprints done. And no, unfortunately, this isn't a form of self-care like getting your nails done. Your fingerprints are part of the background check that will be performed before approving your application.
You can submit fingerprints at any approved Livescan device vendor. These vendors exist all across the state, and you can find a list of approved vendors on the DBPR's website.
Step 3: Submit Your Application
In Florida, you apply for your real estate license before even taking your real estate exam. To apply, you can either submit an online application or mail in a print one, along with an $83.75 application fee and proof of completing your pre-license education.
Once the Florida Real Estate Commission (FREC) receives your application, they will have 30 days to check for errors or omissions. If they find one, they will let you know!
Step 4: Schedule Your Exam
If your application is rejected, the FREC is legally required to tell you why. This isn't the end of the line though! You can request a hearing to appeal the decision.
If your application is accepted, the state will inform the test provider (they're called Pearson VUE) that you've been approved and are officially exam eligible. The test provider will then contact you to tell you that you're clear to schedule your exam.
Once you are declared exam eligible, you have two years to pass the exam, or you will have to retake the pre-licensing course all over again. You can schedule your exam directly with Pearson VUE. Reservations can be made up to the day you want to take the test, as long as the testing site you want has availability.
Step 5: Pass the Exam
You'll need to bring two forms of identification and proof of your education completion with you to the exam. Then you'll need to get 75 out of 100 points to pass.
Once you pass your Florida real estate exam, you can print your Florida real estate license from the DBPR website. However, your license is inactive until you find a sponsoring broker to activate your license.
Step 6: Find a Supervising Broker
Florida requires all real estate sales agents to operate under a supervising broker. So once you have chosen a broker, your new broker will complete the RE11 Sales Associate Form to activate your Florida real estate license.
And there you have it, your active real estate license!
Taking the Extra Step to Become a Realtor
All the real work is done! Now all you need to do to become an official Florida Realtor is join your local chapter of the Association of Realtors. Simply complete the application to join and pay your new membership dues. By joining your local association, you'll automatically be a member of the Florida Realtors and the National Association of Realtors.
Why Become a Realtor?
All real estate agents must adhere to laws and regulations, but Realtors are held to a higher ethical standard than your average real estate agent. This is because they are bound to the NAR Code of Ethics.
This might not sound like an advantage, but the added accountability means that savvy buyers and sellers will choose Realtors over real estate agents. In addition to the instant credibility boost, there are several other benefits to becoming a Realtor, including:
Increased networking opportunities
Ongoing professional training
Legislative advocacy at the local, state, and federal levels
Is There a Downside to Becoming a Realtor?
The downside to being a Realtor is the annual expense. You can't expect all the benefits to come for free! The total amounts vary by region since local Associations set their own dues. For 2022, every Realtor in Florida pays $150 in NAR dues, a similar fee for Florida Association dues, plus whatever dues the local Association levies.
Ultimately, it's up to you to decide if you want to become a Realtor in Florida. You can always start with your real estate license and become a Realtor once your business gets going.
Don't let the annual Realtor dues keep you away. If you're ready to start a new career in real estate, you can tackle the first step with our convenient online pre-licensing course!