5 Steps to Getting Your North Carolina Real Estate License
Here are the five steps to getting your North Carolina real estate license, known as a 'provisional broker' license: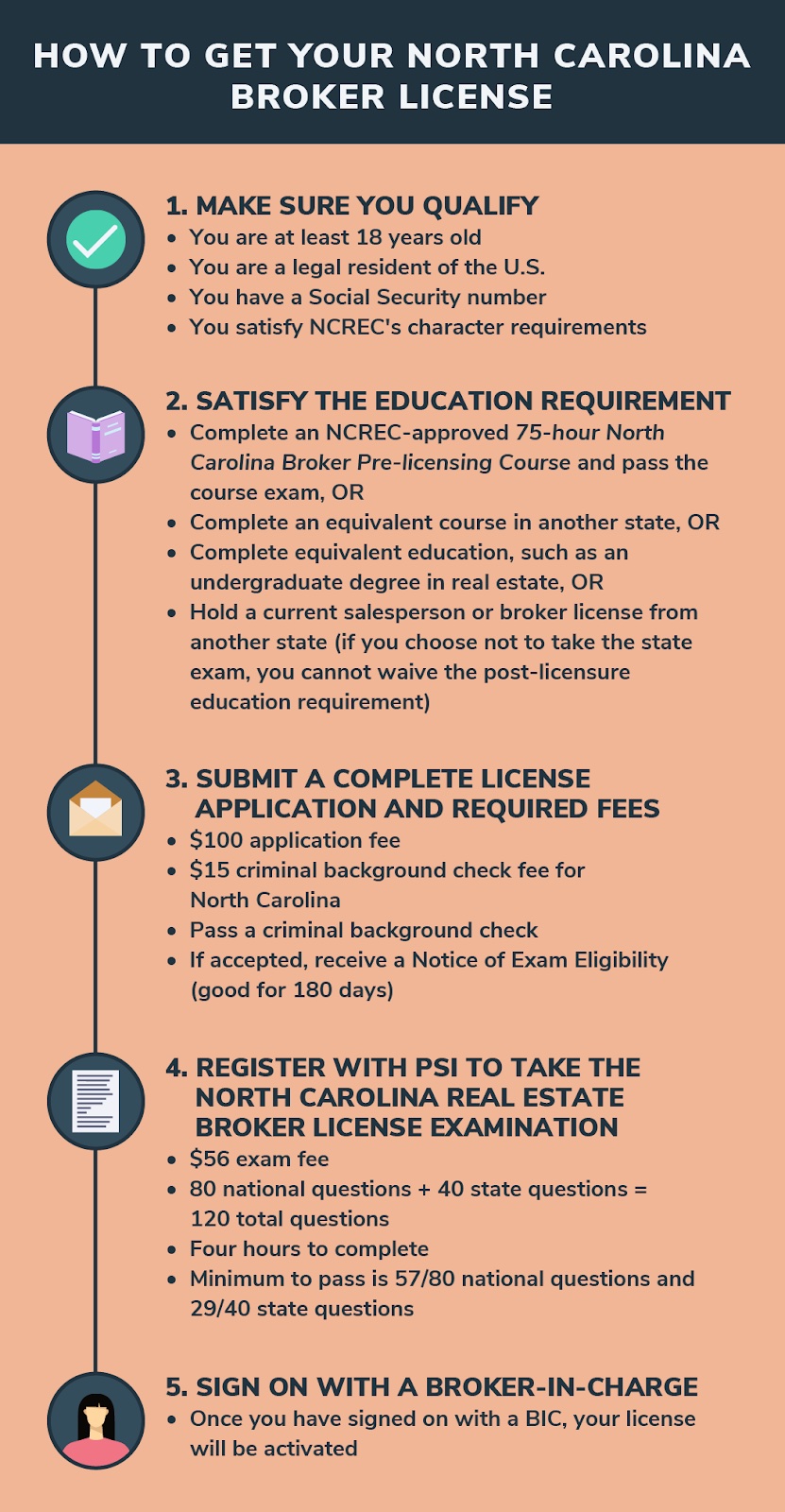 Step 1: Make Sure You Qualify
Before you hit the "buy" button on a pre-licensing education course, make sure you meet all of the qualifications for a license. You must:

North Carolina Real Estate License Character Requirements
There will be three questions on the North Carolina real estate application that relate to "character" (of course this doesn't speak to you as a human being, but "character" is the word the application uses).
You will be asked if you have any previous criminal offenses, professional license disciplinary actions, or current liens or unpaid judgments. Answer these questions honestly! Lying on the application will disqualify an applicant faster than an honest answer with an explanation.
If you do have any of these issues, you'll need to submit a detailed explanation of the situation. The application will guide you as to what explanation is required (and what documentation might be needed).
Step 2: Satisfy the Education Requirement
There are four different ways to satisfy the North Carolina real estate education requirement. You can:
Complete an NCREC-approved 75-hour North Carolina Pre-licensing Course and pass the course exam
Complete an equivalent course in another state
Have completed equivalent real estate education at a higher-ed institution
Hold a current license in another state
Let's get into the details.

NCREC-Approved Pre-licensing Course
Any course approved by NCREC can satisfy this requirement, whether it's an online course or an in-person course. Take note that NCREC recently audited distance learning providers and severely reduced the number of approved courses. Make sure the course you buy is still recognized and approved by the state of North Carolina. See the full list of NCREC-approved providers here. You'll need to complete all 75 hours of learning and pass the final exam.
Documentation: The course provider will send a completion certificate to NCREC.

Equivalent Course in Another State
If you completed a real estate pre-licensing course in another state, even if you didn't take the state exam, that might qualify as your North Carolina pre-licensing education. The course must have been:
75 hours
Completed within one year of applying for your NC license
Completed while you were a resident of the other state
Parallel to the topics and timings in the NCREC course syllabus
Documentation: You must provide a transcript or evidence of completion of the course.

Equivalent Real Estate Education
If you have a B.A. or higher degree in real estate, real estate brokerage, real estate finance, real estate development, or a law degree from an accredited university or college, you can skip the pre-licensing education.
Documentation: You must provide a transcript showing that you completed the degree.

Real Estate License in Another State
If you are a licensed agent or broker in any other U.S. state or Canadian jurisdiction and have been active within the last three years, you don't have to take North Carolina pre-licensing education. Depending on the specifics of licensure in your state, you may or may not have to take the state portion of the exam and/or the NC post-licensing education course.