According to Indeed, the average salary for a real estate agent in the United States is a little over $100k, and that number is pretty similar to that of a real estate agent in Texas. Meanwhile, the National Association of REALTORS® found the median gross income of a Realtor was $43,330 in 2020.
So why are those numbers so vastly different? And what's the difference between a real estate agent and a Realtor anyway? Let's break it down.
Real Estate Agent vs. Realtor
Getting a real estate license does not make someone a Realtor (also written as REALTOR®). That person would simply be called a real estate agent. However, most real estate professionals join a local board of Realtors, such as the National Association of REALTORS®.
NAR outlines a Code of Ethics that all of their members must follow. Consequences for violating these published codes of ethics can include disciplinary action and loss of membership, as well as potential litigation.
How Are Real Estate Agents Paid in Texas?
Real estate agents don't have a typical salary or hourly rate, but instead, work off commission. The commission you'll earn as a real estate agent in Texas can vary. Agents just entering the field might receive a lower commission split (for example, a first-year agent often receives about 50 percent of the commission paid to the broker). They may also have to split the commission with the buyer's real estate agent.
Most real estate agents are paid through a listing agreement, which is signed by the seller and the listing agent. The listing broker then shares part of that commission with the brokerage that represents the buyer.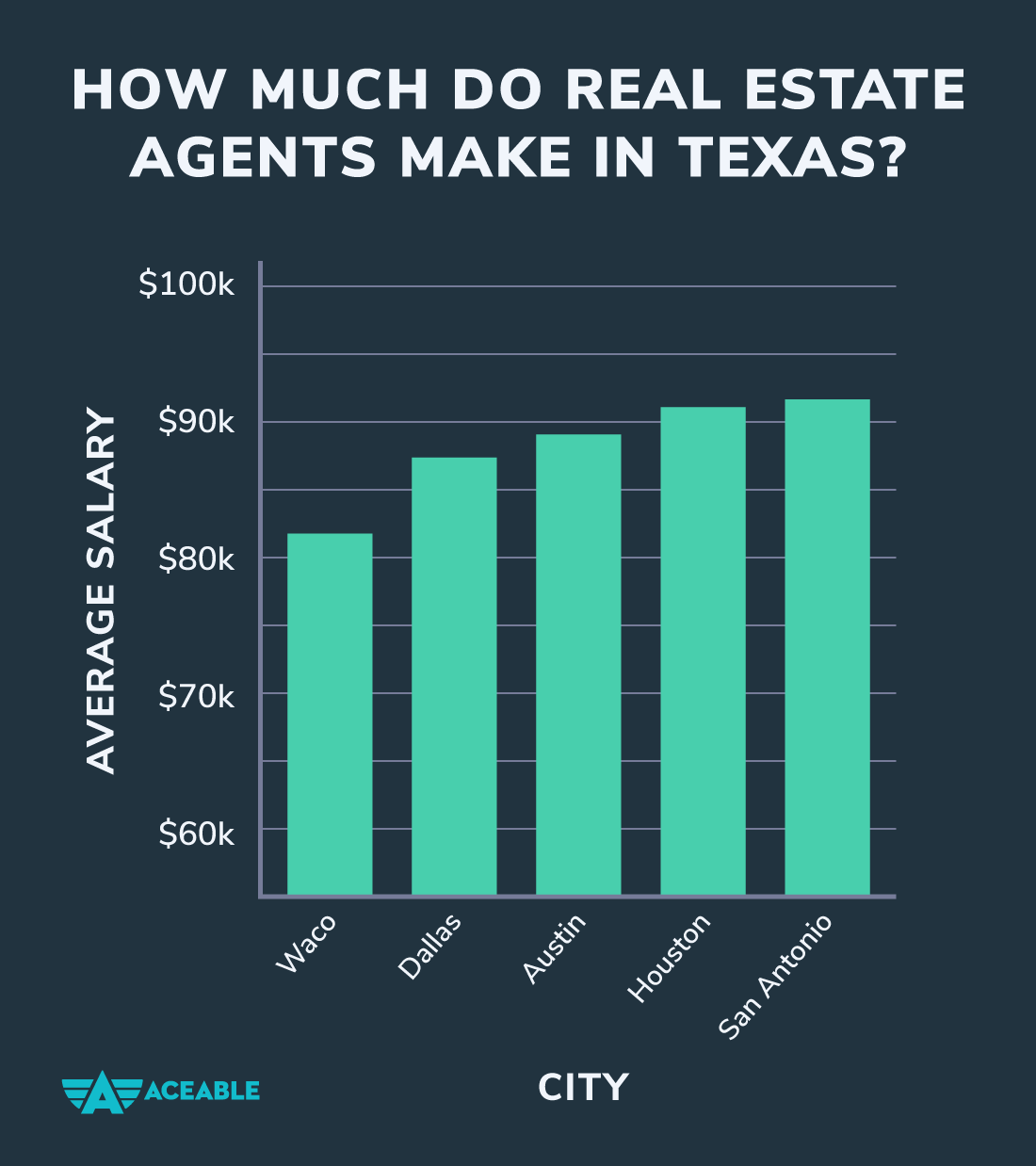 So How Much Does a Texas Real Estate Agent Make?
According to recent figures from the U.S. Census Bureau, Texas cities are growing faster than cities in all other states. It's safe to say that now is the time to dive into the real estate market and get your Texas real estate license.
How much do real estate agents make in Austin?
If you're in Austin and considering getting your real estate license, you could potentially make an average of $88,996 per year. This is 13% above the national average. Austin saw extreme growth several years ago due to the booming tech scene and has been a thriving market ever since with a population that's steadily making its way to one million. Austin agents can expect to sell single-family homes as well as downtown condos.
How much do real estate agents make in Houston?
For those who are looking to get their real estate license in a big city, Houston is for you. With a population of 2.3 million, Houston is the largest city in Texas and the fourth-largest city in the U.S. The entire Houston area extends far and wide to include many suburbs and stretches all the way to the coast in Galveston. In this bustling city, Houston real estate agents make an average of $91,008 per year.
How much do real estate agents make in Waco?
Boasting a population of 134,432 as of 2016, Waco is a much smaller Texas town than the others on this list. But that doesn't mean it isn't a lucrative market for real estate -- Waco real estate agents make an average of $81,730 Waco is also home to Baylor University and the popular Magnolia Market featured in HGTV's 'Fixer Upper,' so the town is sure to see an influx of visitors each year who may want to call Waco home in the near future.
How much do real estate agents make in San Antonio?
As the fastest growing city in Texas currently, it would be a smart move to get your real estate license in San Antonio. Real estate agents here make an average of $91,668 per year. Real estate agents in the San Antonio area can expect to see an increase in home sales as the population is 1.5 million and seeing major growth.
How much do real estate agents make in Dallas?
If you want to get your real estate license in a big city with plenty of different areas and selling opportunities available, then consider Dallas. Real estate agents in Dallas make about $87,354 per year, which meets the national average.
While these are the averages, remember that there is no limit to how much a real estate agent can make. Building a reputation in your area and becoming an expert in the field will render no limits to your annual income.
If you're interested in Texas real estate as a career path, you have to start with getting your license. Start your journey with our Texas pre-licensing course today!